research
UAB and IAE Organize Workshop on Matching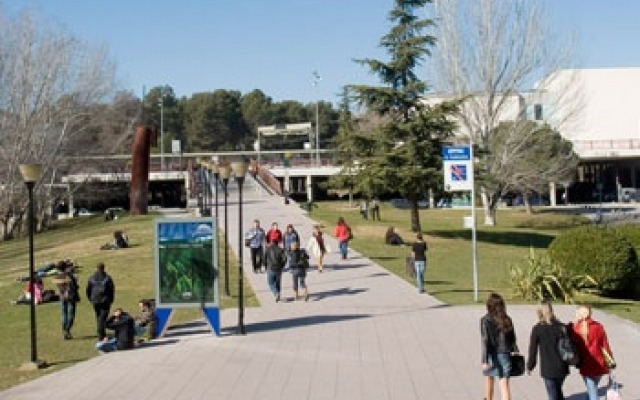 A workshop titled "Matching: Theory, Applications, and Experiments" took place on June 8th and 9th at the Bellaterra Campus at the UAB, site of the BSE Msc in the Economics of Science and Innovation program.
The workshop was sponsored by two of the founding academic institutions of the BSE - the Department of Economics and Economic History of the UAB (UFAE) and the Institute for Economic Analysis (IAE-CSIC) - as well as by the Reference Center for Analytic Economics (CREA), the BSE sister research institution.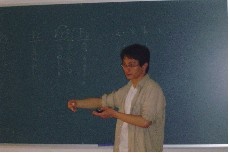 Harvard Professor Fuhito Kojima presents at the workshop
Over 30 professors took part in the two-day workshop. Participants hailed from prestigious research universities, including Duke University, Rutgers University, California Institute of Technology, Harvard University, UC San Diego, and Maastricht University. Two affiliated professors of the BSE, Flip Klijn (IAE) and Jordi Massó (UAB), organized the event in conjunction with Guillaume Haeringer (UAB).
Guillaume Haeringer opened the workshop on June 8th with a presentation of his research, titled "Constrained School Choice: Theory and an Experimental Study" (with BSE Affiliated Professors Caterina Calsamiglia and Flip Klijn), and Jordi Massó presented his work, "Matching Markets under (In)complete Information" (with Lars Ehlers), as the second day of the event commenced.
Other presentations included:
Atila Abdulkadiroglu, "Strategy-proofness Versus Efficiency in Matching with Indifferences: Redesigning the NYC High School Match" (with Parag Pathak and Alvin Roth)
Effrosyni Diamantoudi, "Decentralized Matching: The Role of Commitment" (with Eiichi Miyagawa and Licun Xue)
Federico Echenique, "What Matchings Can Be Stable? The Testable Implications of Matching Theory"
Lars Ehlers, "Controlled School Choice" (with Atila Abdulkadiroglu)
Elena Molis, "The Stability of the Roommate Problem Revisited" (with Elena Iñarra and Conchi Larrea).
Onur Kesten, "On-Campus Housing: Theory vs. Experiment" (with Pablo Guillen)
Fuhito Kojima, "Competitive Claims and Resource Allocation by Deferred Acceptance" (with Mihai Manea)
Mihai Manea, "Strategy-proofness of the Probabilistic Serial Mechanism in Large Random Assignment Problems" (with Fuhito Kojima)
Joana Pais, "Giving Advice and Perfect Equilibria in Matching Markets"
Marek Pycia, "Many-to-One Matching with Complementarities and Peer Effects"
Carles Rafels, "Some Insights into the Core of an Assignment Game: Core Dimension and Extreme Core Points" (with Josep Maria Izquierdo and Marina Núñez)
Antonio Romero-Medina, "Converging to Efficiency: the Ramón y Cajal Program Experience" (with Cesar Alonso-Borrego and Matteo Triossi)
Utku Ünver, "Dynamic Kidney Exchange"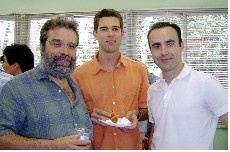 Organizers of the Workshop Jordi Massó (UAB), Flip Klijn (IAE), and Guillaume Haeringer (UAB)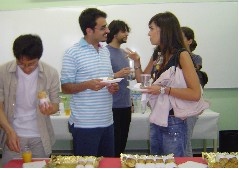 Participants of the workshop socialize during a lunch reception