research
Third BSE Summer Forum builds on quality and participation in previous editions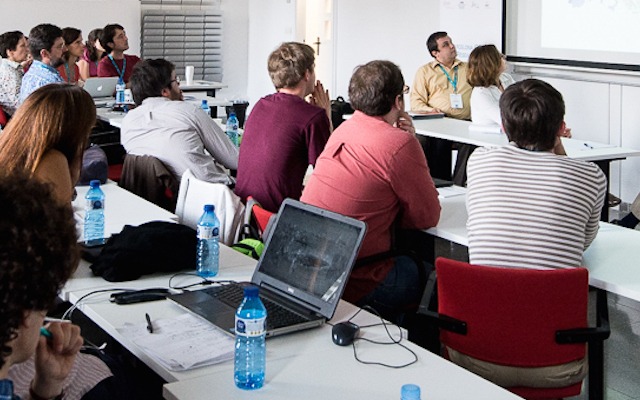 More than 800 researchers from institutions around the globe gathered in Barcelona this June to share their latest work and insights across 28 different workshop topics.
The Barcelona School of Economics organized the third edition of the Summer Forum from June 8-20, 2015. The BSE Summer Forum is a series of independent workshops that cover the main fields of Economics. With each edition, the event has grown in participation by top researchers, selectivity of papers chosen for each workshop, and reputation as the summer meeting point in Europe for colleagues with common research interests.
The most selective edition so far
This year's organizers received over 1,200 paper submissions, from which they selected 386 for presentation in the Summer Forum workshops. The quality of the papers and the increased quantity of submissions made this the most selective edition of the BSE Summer Forum since the event began in 2013.
In addition to tough competition for presentation slots, the Summer Forum has nearly doubled the number of participants from 400 the first year to more than 800 this year. The offer of workshops also expanded to include 28 different topics, including many returning workshops and several new topics such as "Central Bank Design" and "Structural Microeconometrics."
Video playlist: a small sample of over 350 Summer Forum speakers
Víctor Aguirregabiria (University of Toronto)
"A Microeconometric Dynamic Structural Model of Copper Mining Decisions" (with A. Luengo) - Workshop on Applied Industrial Organization
Christopher Avery (Harvard Kennedy School of Government)
"The Common Application and the DA Algorithm in School Assignment" - Workshop on Matching in Practice
Bruno Bias (Toulouse School of Economics)
"Endogenous agency problems and the dynamics of rents" (with A. Landier) - Workshop on Financial Intermediation and Risk
Jonathan Eaton (The Pennsylvania State University)
Firm-to-Firm Trade: Imports, Exports, and the Labor Market (With S. Kortum and F. Kramarz) - Workshop on Firms in the Global Economy
Raquel Fernandez (New York University)
"The Long and the Short of it: Sovereign Debt Crises and Debt Maturity" - Workshop on International Capital Flows
Tarek A. Hassan (University of Chicago)
"The Power of the Street: Evidence from Egypt's Arab Spring" - Workshop on Political Institutions
Costas Meghir (Yale University)
"Earnings Dynamics and Firm Level Shocks" (with B. Friedrich, L. Lawn, and L. Pistaferri) - Workshop on Search, Matching, and Sorting
Muriel Niederle (Stanford University)
"Knowing When and Whether to Ask:The Cost of Leaning In" (with C.L. Exley and L. Vesterlund) - Workshop on Gender and the Labor Market
Giovani Peri (University of California, Davis)
"Immigrants Effect on Native Workers: New Analysis on Longitudinal Data" - Workshop in Migration
Dimitry Vayanos (London School of Economics)
"Financial Markets where Traders Neglect the Informational Content of Prices" (with E. Eyster and M. Rabin) - Workshop on Information Frictions and Learning
Calendar of all speakers and papers
Full program for Summer Forum 2015 [pdf]
A platform for inspiration and cooperation
Several BSE master's alumni were among the participants in the Summer Forum workshops. Now PhD students or professional researchers, alumni return with new experience and perspective to present their own work to peers including their former professors.
Among the master's alumni presenting at this year's Summer Forum were Ambrogio Cesa-Bianchi '08, now Senior Economist at the Bank of England, who spoke about "Uncertainty and Economic Activity: A Global Perspective" in the Workshop on Time Series Analysis in Macro and Finance; and Christina Rott '10, now Assistant Professor at Maastricht University, who presented work on "Selection into competition and advice from men and women" in the Workshop on Gender and the Labor Market.
"The Summer Forum workshop offered me the great opportunity to present my newest research and to come back to the BSE - this time as researcher," Professor Rott said. "The Summer Form was an excellent platform to learn about the ongoing research on different topics, to discuss ideas with excellent colleagues from all over the world, and to get inspiration for new projects and cooperation. Meeting old acquaintances from BSE was great and it felt like still being part of it!" she said.
Her co-author on this paper is BSE Affiliated Professor Jordi Brandts (IAE-CSIC and BSE).
Dr. Ambrogio Cesa-Bianchi '08 and Prof. Christina Rott '10 are two of the BSE alumni who presented at Summer Forum 2015.
More photos from BSE Summer Forum 2015