research
Summer Forum 2018 draws 787 participants from 177 institutions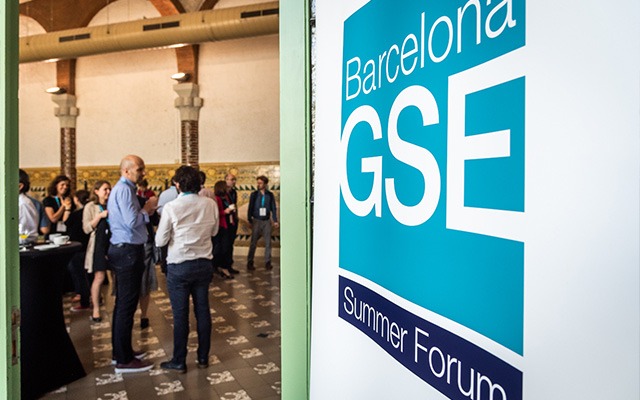 The sixth annual BSE Summer Forum took place from June 11-22, 2018 at Casa Convalescència (UAB). During the two weeks, hundreds of researchers from universities, central banks, and international organizations participated in 28 workshops across the spectrum of Economics research.
The Summer Forum workshops are organized by BSE Affiliated Professors together with colleagues from other institutions. The workshops offer a unique opportunity for researchers at all stages of their careers to meet and exchange ideas about specialized topics. Some workshops build on previous editions of the Summer Forum, while others were held for the first time this year.
"I organized a workshop with Daniel Navarro-Martinez (UPF and BSE) on the External Validity, Generalizability, and Replicability of Economic Experiments, the first ever workshop on this topic. I really enjoyed attending the workshop and the BSE Summer Forum: excellent specialist papers, wonderful presentations, high quality, but informal, discussions, ample opportunities for interaction and networking, great location, perfect and very efficient organization. Highly recommended."

Matteo Galizzi (London School of Economics)
Invited and keynote speakers are joined by others who submit papers to an open call, which has grown increasingly competitive over the course of the five editions of the Summer Forum. Over 1,460 papers were submitted this year, with 24% of papers accepted for presentation at the Summer Forum.
The Summer Forum is one of the BSE research initiatives supported by the Severo Ochoa Research Excellence Program. The event organizers this year were Professors Julian di Giovanni (ICREA-UPF, CREI and BSE Deputy Director for Research), Inés Macho-Stadler (UAB and BSE), and Jaume Ventura (CREI, UPF and BSE).
Summer Forum 2018 by the numbers
10 central banks represented
Bank of Canada
Bank of England
Bank of Italy
Bank of Spain
Banque de France
Czech National Bank
Deutsche Bundesbank
European Central Bank
Norges Bank
United States Federal Reserve System
Institutions with 5 or more participants

United States Federal Reserve System
19
University of Oxford
15
London School of Economics
11
Massachusetts Institute of Technology
11
University of Warwick
10
University of Zurich
9
New York University
8
Northwestern University
8
University of Cambridge
8
University of Pennsylvania
8
Harvard University
7
Queen Mary University of London
7
University of Toronto
7
Washington University in St. Louis
7
Toulouse School of Economics
6
University College London
6
University of California, Los Angeles
6
University of Michigan
6
Bocconi University
5
European Central Bank
5
Princeton University
5
Stanford University
5
University of Edinburgh
5
University of Hong Kong
5
Yale University
5
---
Summer Forum Media Center 2018
All photos, videos, and highlights from this year's BSE Summer Forum will be added to the Media Center as they become available.