study
Students explore different sectors for their careers during Career Days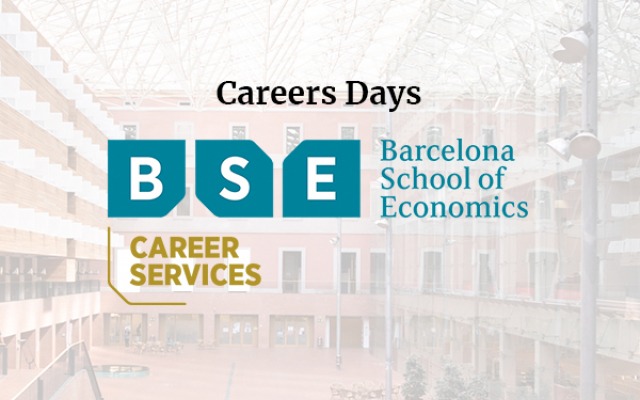 These Career events help Master's students to identify the sector of their interest and to acquire the key elements to be successful in those fields
The BSE Career Services team prepares different activities and events for current Master's students during the academic year in order to help them to define their goals for their future careers after the master's at the Barcelona School of Economics. This way, Career Services organized two events specialized in sectors of finance and international organizations. It was the fourth edition of both events that were conducted entirely online to guarantee a safe experience for both panelists and students.
FINANCE DAY 2021
The Finance Day event connects Master's students with BSE alumni and representatives from different financial institutions in order to help students understand the type of work they do, how they are structures and what they are looking for in terms of applicants.
Participating Organizations
These were the 5 organizations that participated in the event. Three of the representatives of these companies were alumni from the Barcelona School of Economics:
Chiara Borra '16 (Economics of Public Policy), Supervision Analyst at European Central Bank
Omar Romero '12 (Finance), Risk Modeling & Analytics Specialist at UBS
Pascal Schmidt '17 (Economics), Account Manager at FactSet
"Through the Career Days, our students have the possibility to start building their career progression early on. Not only do they have access to top recruiters and Alumni, they are exposed to various sectors, whether Finance, International Organization, or Consulting early in the year, which will help them identify which sector is more of their interest. In addition, Recruiters and Alumni guide them with the key elements to be successful in the relevant sector. It is very nice to see how eager students are to start their career path after those events"

Catia Abaji, BSE Career Counselor
INTERNATIONAL ORGANIZATION DAY 2021
Students interested in international organizations could virtually interact with representatives from 6 different organizations that attended the event. Master's students got some recommendations of the knowledge and skills these institutions are demanding in open recruiting processes.
Participating Organizations
Three of the representatives of these companies were alumni from the Barcelona School of Economics:
Antoine Bonet '13 (International Trade, Finance, and Development), Junior Economist at OECD's Development Center
Thang Nguyen '13 (Economics of Public Policy), Economist at OECD
Alberto Osnago '09 (Economics), Trade Policy Analyst at WTO
"A large crowd tuning in at 8.45h on a Monday morning is probably the best indication of the students' interest in joining international organisations. Indeed, the rigorous training at Barcelona School of Economics equips them with the important skills to thrive in such environment. I hope to see many more alumni joining our BSE community here at the OECD!"

Thang Nguyen, Economist at OECD