study
Sponsors and BSE invest in talent with funding for top students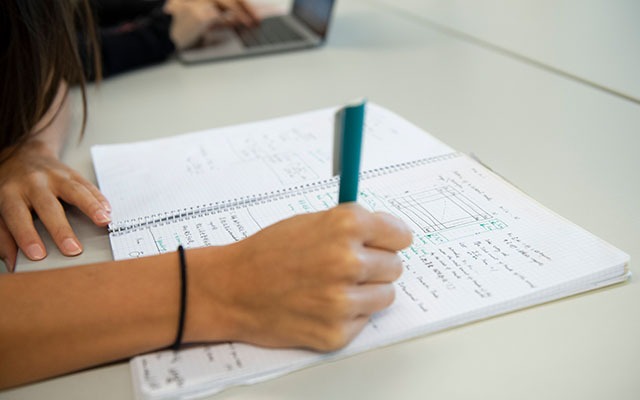 Scholarships and funding from top companies supports talent at BSE, providing promising candidates with access to our Master's programs
Year after year, the Barcelona School of Economics is chosen by top-tier students from around the world, to continue their education in the fields of Economics, Finance, and Data Science by participating in one of our Master's programs.
Students who receive an offer from the BSE are chosen for their determination, grit, and flair which sets them apart from others. Thanks to the generous support that comes from our public and private sponsors, BSE can offer full or partial funding to the most promising candidates admitted to our Master's programs.
The type of funding given is determined by each company. Some provide full scholarships, while others contribute funds toward full or partial tuition waivers. BSE also contributes to the pool of available tuition funding as part of our mission to attract the most talented students and invest in their future.
Together with our esteemed sponsors, the fund awards an average of 800,000 euros annually. Around 36% of all enrolled students receive partial or full funding every year.
Barcelona School of Economics sponsors providing funding for scholarships and tuition waivers in 2022-23
This year, three nominal scholarships were awarded to outstanding Master's students by Accenture, Fundación Ramón Areces, and Unicredit Foundation.
The recipients of this year's scholarships were:
Sandeep Achary '23 (PhD Track Program) - Fundación Ramón Areces
Federico Mattei '23 (PhD Track Program) - Unicredit Foundation
Irene Villalonga '23 (Data Science Methodology Program) - Accenture
Many other students received tuition waivers that covered all or part of the Master's program fees.
What have scholarship awardees gotten from BSE so far?
Invaluable insights, practical skills, and confidence to make a meaningful impact
The Data Science Methodology program student, Irene Villalonga, was awarded this year's Accenture scholarship which also includes an Industrial Practicum at the Accenture Analytics Innovation Center in Barcelona. Irene holds an undergraduate degree in Physics from Universitat Autonoma de Barcelona. During her final year, she also got the opportunity to participate in an internship at Accenture which focused on Digital Analytics.
"The BSE Master in Data Science program immediately caught my attention due to its technical curriculum, renowned faculty, and practical approach to learning. Through the program, I gained invaluable insights and practical skills that equipped me to excel in the field of data science. Thanks to this experience, I feel confident in my ability to make a meaningful impact in the industry and am excited to apply my skills and knowledge to my work with Accenture."

Irene Villalonga, Data Science Methodology student

Healthy debate, collaborative research, and a welcoming community away from home
Sandeep Achary is this year's recipient of the Fundación Ramón Areces scholarship. After completing his Master of Science in Quantitative Economics (MSQE) at the Indian Statistical Institute in Kolkata, he then went on to work as a Data Scientist before deciding to enroll in the PhD Track Program.
"I am interested in exploring political economic aspects of macroeconomy and redistribution. What fascinates me is the feasibility of otherwise technically sound economic prescriptions. This is my first time away from India. I felt welcomed by the BSE community very well. The coursework is a good balance of theory and evidence. The faculty encourages questioning and a healthy debate on the conflicting views on the subject. We are encouraged to work in groups of four, this helped me a lot and prepared me for research which is primarily collaborative in nature."

Sandeep Achary, PhD Track student

The right preparation for academia or policy work, and a dynamic and exciting city
The Unicredit scholarship has been awarded to Federico Mattei, a previous student at Università Bocconi, where he studied Economics and Social Sciences.
"I chose BSE for the well-known excellence of UPF and UAB departments in economic research in a variety of fields (from macroeconomics to political economy), all in a dynamic and exciting city like Barcelona. Not surprisingly, I am looking forward to starting the PhD at UPF next year! I am sure it will give me the right preparation to work in academia or in international organizations with a focus on public policies."

Federico Mattei, PhD Track student

Related Links