faculty
Robin Hogarth Awarded Honorary Doctorate from University of Lausanne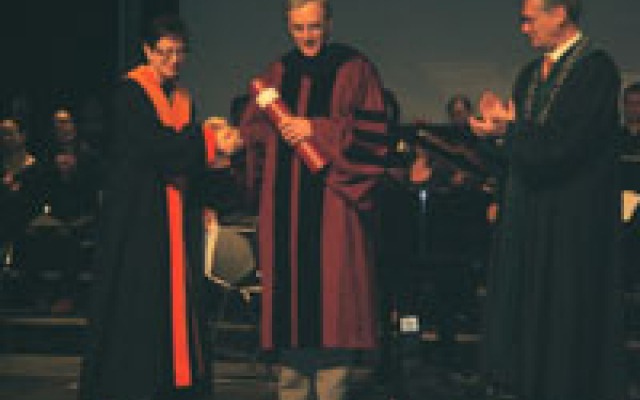 On June 15th, BSE Affiliated Professor Robin Hogarth was awarded an honorary doctorate from the University of Lausanne in recognition of his contributions to the body of research in behavioral economics.
The Rector of the university, Dominique Arlettaz, presented Professor Hogarth with the degree "Doctor of Economic Sciences Honoris Causa", stating that he has "fundamentally changed the field of economics and played a pioneer role in the birth of new disciplines such as organizational and behavioral economics."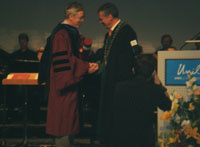 Professor Hogarth and University Rector Dominique Arlettaz
Professor Hogarth is one of the researchers at the forefront of the relatively new discipline of behavioral economics. Some of his recent research has explored the "small mind problem", a term he uses to describe the discrepancy between the capacities that humans currently possess, which were developed to meet the demands of the past, and the new challenges humans face in present times.
According to Professor Hogarth, the small mind problem is a consequence of the time-lag between changes in the environment and evolutionary adaptation. His research explores the complex decision-making process of humans, which does not always maximize expected utility and cannot be explained strictly from an economics perspective.
In addition to his affiliation with the BSE, Professor Hogarth has been ICREA Research Professor in the Department of Economics and Business at Universitat Pompeu Fabra, one of the School's founding institutions, since 2002.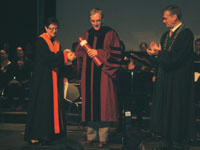 BSE Affiliated Professor Hogarth accepts the doctorate honoris causa
He has held a variety of academic posts at the University of Chicago School of Business, including Deputy Dean (1993-98), Wallace W. Booth Professor of Behavioral Science, and Director of the Center for Decision Research (1983-1993).
Previously, he held appointments at INSEAD (European Institute of Business Administration) in France and at the London Business School. Professor Hogarth earned his MBA from INSEAD in 1968 and his Ph.D. from the University of Chicago in 1972.
His research has focused mainly on the psychology of judgment and decision-making, and has been influential in the emerging discipline of behavioral economics. He has published several books, including Judgment and Choice (John Wiley & Sons, 1987), and Educating Intuition (University of Chicago Press, 2001).
Professor Hogarth has also published numerous articles in leading professional journals, including Psychological Bulletin, Psychological Review, Management Science, Journal of the American Statistical Association, and the Journal of Risk and Uncertainty.
He is a past President of the Society for Judgment and Decision Making and President-elect of the European Association for Decision Making. Professor Hogarth will be teaching in the Msc in Economics of the BSE in the fall.