research
Researchers gather for 21st Barcelona School of Economics Trobada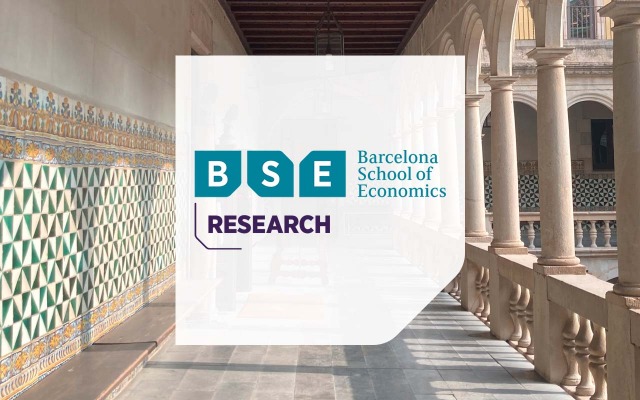 The agenda for the 2023 edition of the Barcelona School of Economics "Trobada" included a warm welcome to new BSE Affiliated Professors and post-docs, research presentations, and the 45th BSE Lecture by Lucrezia Reichlin (London Business School).
The Barcelona School of Economics held the 21st BSE Trobada on October 6, 2023 at the Institut d'Estudis Catalans. The word "trobada" means gathering, and the BSE Trobada is the first event of the academic year that gathers BSE Affiliated Professors and researchers from all four BSE academic units:
BSE Affiliated Professors are tenured or tenure-track faculty members of the academic units. Including this fall's new arrivals, there are now 148 BSE Affiliated Professors from 27 countries (52% are from outside Spain) and 15 post-docs. There are also nearly 100 PhD students in the two doctoral programs organized in the BSE research community.
Welcome to the BSE research community!
During the first half of the Trobada, new and returning researchers received a welcome from BSE Director Teresa Garcia-Milà, who is also a BSE Affiliated Professor and has been involved with each of the academic units in both academic and leadership capacities during her career.
Both of BSE's deputy directors joined Professor Garcia-Milà in welcoming the researchers at the Trobada. Ada Ferrer-i-Carbonell is a tenured scientist at IAE-CSIC and BSE's Deputy Director for Academic Programs, while Alberto Martin is a senior researcher at CREI-UPF and BSE's Deputy Director for Research.
NEW BSE AFFILIATED PROFESSORS, FALL 2023
Federica Braccioli (IAE-CSIC and BSE)
PhD, University of Geneva
Research Interests: Applied Economics, Political Economy, Labor Economics

Vasily Korovkin (UPF and BSE)
PhD, UCLA Anderson School of Management
Research Interests: Development Economics, Industrial Organization, Political Economy

Anastassia Obydenkova (IAE-CSIC and BSE)
PhD, European University Institute
Research Interests: Political Institutions and Regimes, Sustainable Development, Environmental Politics, International Organizations, Socio-economic Transformations

Mar Reguant (ICREA-IAE-CSIC and BSE)
PhD, MIT
Research Interests: Energy Economics, Energy Transition, Industrial Organization
NEW POST-DOC RESEARCHERS, FALL 2023
Nicolás Bianco (UPF and BSE)
PhD, University of Padova
Research Interests: Statistics, Bayesian Statistics, High-dimensional Data, Time Series Analysis

Michela Bonani (UPF and BSE)
PhD, Tilburg University
Research Interests: Industrial Organization, Applied Econometrics

Pierre Magontier (UPF and BSE)
PhD, Universitat de Barcelona
Research Interests: Urban Economics, Political Economy, Environmental Economics, Applied Microeconomics

Rui-Ray Zhang (BSE Data Science Center)
PhD, Monash University
Research Interests: Statistics, Probabilistics, Combinatorics
Our research community continues to grow: stay tuned for the names of Affiliated Professors who will join BSE later on this year!
All BSE Affiliated Professors, BSE Fellows, and post-docs, as well as PhD students and visiting researchers, are listed in our Research Directory:
Visit the BSE Research Directory
Lab disasters, sticky prices, and organized crime
After the welcome from BSE's directors, the Trobada program continued with research presentations by three BSE Affiliated Professors:
Federica Braccioli presents her paper during the 2023 Barcelona School of Economics Trobada.
Nowcasting pioneer Lucrezia Reichlin (LBS) delivers 45th BSE Lecture
The second half of the BSE Trobada program gave the research community the opportunity to hear an invited lecture by Lucezia Reichlin, Professor of Economics at the London Business School and member of the Barcelona School of Economics Scientific Council.
Full video of Professor Reichlin's BSE Lecture, "Inflation and Disinflation Puzzles," will be available soon on our website and the BSE YouTube channel.
Support for BSE research activities
The BSE Trobada is supported by the Severo Ochoa Research Excellence Program (CEX2019-000915-S) through Spain's State Research Agency (Agencia Estatal de Investigación - AEI).
Barcelona School of Economics has been accredited as a Severo Ochoa Center of Excellence in all three editions of the program (2012-15, 2016-19, and 2020-23).