research
Redeia and BSE organize panels on energy transition and digital transformation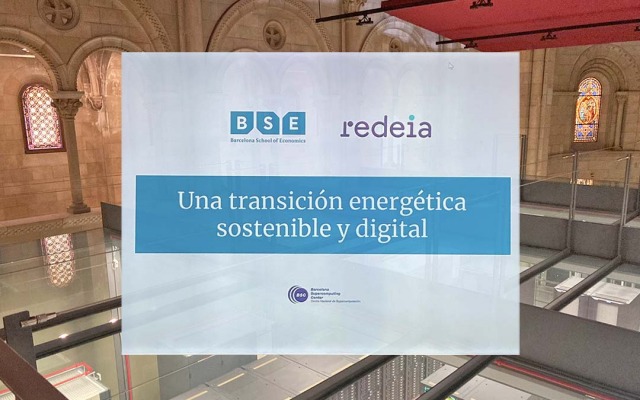 Hosted by the Barcelona Supercomputing Center (BSC-CNS)
This March, the Barcelona School of Economics and Redeia, Spain's national energy infrastructure company, organized two panel discussions on "Sustainable Energy Transition and Digital Transformation." The event was hosted by the Barcelona Supercomputing Center (BSC-CNS).
A conversation with researchers, executives, and policymakers
Government, firms, and society seem to be in agreement that the energy transition is necessary. But what will it look like, and how will we get there?
The panels brought together leaders from Redeia, policymakers from the Spanish and Catalan governments, economists and data scientists from BSE, and researchers from BSC-CNS to share their informed perspectives in conversations that were didactic, nuanced, and at times, profound.
Enric Banda welcomed everyone to BSC-CNS and emphasized that it is a place where researchers and scientists from all disciplines can use MareNostrum's computing power to supercharge their data analysis. Many aspects of the energy transition will rely on the development of better data collection, processing, and analysis, as the panelists would point out throughout the day.
BSE Chair Paulina Beato put the day's topic into the context of the recently released Intergovernmental Panel on Climate Change (IPCC) Sixth Assessment Report (AR6) and its links to other great challenges to society and future generations, such as political instability and inequality.
Redeia President Beatriz Corredor spoke about the utility company's role as the backbone of Spain's energy transition and its commitment to support the transition at the local, state, and European levels.
What are the keys to a sustainable pathway for the energy transition?
From left:
Antonio Ortiz
Assistant Deputy Director for Sustainable and Digital Finance in the Spanish Ministry of Economic Affairs and Digital Transformation
Eva Pagán
Chief Sustainability Officer of Redeia
Albert Banal-Estañol
Deputy Director of the BSE Master's Degree Program in Economics of Energy, Climate Change and Sustainability. Professor at Universitat Pompeu Fabra (UPF) and BSE
Andreu Mas-Colell (moderator)
President of the Barcelona Institute of Science and Technology (BIST). Emeritus Professor of Universitat Pompeu Fabra (UPF) and BSE
All of the panelists agreed that major investments in cleaner energy sources and infrastructure will be fundamental for a successful energy transition. But what will that transition look like, and how will we get there?
Albert Banal-Estañol (UPF and BSE) challenged governments to take actions that will ensure a more equitable distribution of the benefits, and not just the costs, of the energy transition.
The Yellow Vests protests in France and the protests in Uganda over oil pipelines are just two examples of how society is already rejecting solutions that increase the profits of large companies and the wealthy while leaving lower-income communities and households behind.
Civil unrest, coupled with the looming climate emergency, creates a need for greater expediency in policy implementation. Banal-Estañol pointed out that expediency comes with additional challenges. For example, it means that policymakers can't wait for robust research to inform the design of new policies and tools.
Eva Pagán (Redeia) also acknowledged that the world needs "an energy transition for all" that addresses the needs of society and the environment as well as the economy. She reflected that the electricity sector "has a fascinating role to play" in the transition and can be a relevant actor for making Europe the first carbon neutral region in the world. Spain's investments in clean energy options such as wind and solar are already contributing to this goal.
Finally, Antonio Ortiz (Spanish Ministry) spoke about the establishment of a European classification system, the EU Taxonomy for sustainable activities, which will facilitate and encourage "green" investments by private investors and companies.
Digital transformation, a pillar of the energy transition
From left:
Mar Reguant
Director of the BSE Master's Degree Program in Economics of Energy, Climate Change and Sustainability. Professor at Northwestern University and BSE
Hannes Mueller
Director of the BSE Master's Degree Program in Data Science for Decision Making. Professor at the Institute for Economic Analysis (IAE-CSIC) and BSE
Jose M. Cela

Director of Computer Applications in Science and Engineering at BSC-CNS
Silvia Bruno
Chief Innovation and Technology Officer at Redeia
Teresa Garcia-Milà (moderator)

Director of the Barcelona School of Economics. Professor at UPF and BSE
This panel touched on ways that data collection and analysis play a central role not only in research but also in energy production, efficiency, and security.
Mar Reguant (Northwestern and BSE) explained that we can now know much more about household needs and preferences thanks to tools like smart meters. She offered the example of electric car chargers that connect to the power grid and wait until the cost of electricity is lowest to begin charging a car's battery.
While such data-driven technologies are beneficial to a subset of individual consumers, there is also a pressing need to leverage data collection and analysis at a larger scale to solve energy challenges that affect entire populations. Can we use machine learning to reduce the consequences of natural disasters such as forest fires or hurricanes? Can we close the gap between energy supply and demand during huge peaks such as heat waves or severe cold snaps?
Silvia Bruno said that Redeia is working on the optimization, automation, and cybersecurity of its control center and energy substations, and also spoke about the integration of energy grids across countries to share renewables and support each other during peaks or other times of need.
In fact, securing the energy supply has become more important than ever. Hannes Mueller (IAE-CSIC and BSE) pointed out that increased demand for energy and related resources is going to generate more conflict around the world. He noted that while conflict itself can limit access to energy sources, it can also accelerate the search for alternative solutions. Countries that have depended heavily on Russian oil, for example, may have sped up their development of infrastructure for generating renewable energy at home, ultimately reducing their dependence on fossil fuels.
Because every megawatt counts, the digital transformation will be essential to maximizing the production capabilities of every energy source, including renewables such as wind. Jose M. Cela (BSC-CNS) explained how supercomputing power can help make more accurate weather predictions using real-time wind conditions at the level of square meter, rather than square kilometers used by most meteorological models, so that wind farms can know exactly which turbines to activate and when.
Quick action and open minds
The panels concluded with remarks by Anna Barnadas, Catalonia's Secretary for Climate Action. She said that we must act, and quickly, to support the energy transition. At the same time, she recognized the need to keep an open mind and work with local governments to come up with solutions that may not be the most optimal, but will be chosen in consensus with local residents.
Finally, Barnadas thanks all the panelists for their insights. "At roundtables like these, you learn a lot, with depth, in a very short period of time from experts," she said.
Anna Barnadas, Catalan Secretary for Climate Action (left) and BSE Chair Paulina Beato
MareNostrum: the world's most beautiful supercomputer (and one of its most powerful)
The event concluded with a tour of the MareNostrum 4 supercomputer guided by Jose M. Cela, which was a treat for all of the participants and the audience.
MareNostrum has been called the world's most beautiful data center because of its location in a converted chapel. This version of the machine has a computing capacity of more than 11 petaflops (eleven thousand trillion operations per second), making it one of the world's most powerful.
With more computing power comes the need for more energy (lots of it). Reducing the MareNostrum's energy consumption without sacrificing speed is an ongoing challenge for the BSC-CNS teams that work on its hardware and its software. Installation of MareNostrum 5 — an even more powerful version that will consume even more energy— has already begun, and researchers who apply to use it will have to demonstrate that their algorithms are capable of exploiting its increased power.
They'll have time to work on those algorithms; implementation of MareNostrum 5 has been delayed due to global supply chain issues.
---
Related BSE research
Related BSE study programs