study
75 recruiters and alumni participate in BSE Career Days on Finance and Consulting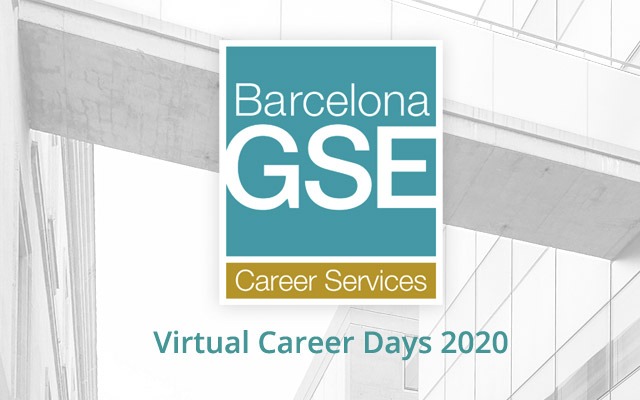 This October, BSE Career Services organized the second annual Finance Day and the fourth annual BSE Consulting Day. Both events were held virtually this year while maintaining the objective to connect Master's students with alumni and recruiters from target industries.
The program for the Virtual Career Day events models a traditional face-to-face career fair. A full program of panels, recruitment talks, case studies, and one-on-one sessions allows BSE students to learn about organizations in a particular industry: how they work, how they are structured, and what they are looking for in a job candidate.
During the events, students get to hear directly from BSE Alumni who are currently working in at these firms. Some of the alumni are recent graduates, while others from earlier cohorts have grown and evolved on their professional career paths in their company or their field.
"It's always a pleasure to welcome alumni back home to the BSE! It is very nice to see their enthusiasm as they share their experiences and inspire new generations, who might certainly follow in their footsteps very soon. The alumni are the best ambassadors for the school, and the whole BSE community feels very proud of them!"

Ibana Larrubia, BSE Career Counselor
This year, alumni and recruiters from 22 financial organizations and consulting firms participated in the Virtual Career Days. Around 70 students were connected during peak times during both events, with many more logging in throughout the day.
BSE Virtual Career Days 2020 by the numbers
144 total participants
75 alumni and recruiters from 22 organizations (16 consulting firms, 6 financial organizations)
65 one-on-one sessions between students and recruiters
20 company presentations (15 Consulting, 5 Finance) and 1 alumni panel (Finance)
11 consulting case studies
Finance Day 2020
PARTICIPATING ORGANIZATIONS
ALUMNI FINANCE DAY PANELISTS
Consulting Day 2020
PARTICIPATING ORGANIZATIONS
ALUMNI WHO PARTICIPATED IN CONSULTING DAY 2020
Career events and support all year
In addition to the Finance Day and the Consulting Day, BSE Career Services organizes a full calendar of recruitment events and career development training sessions, and one-to-one advising sessions to help Master's students formulate their career goals and job search strategies.
"It's never too early in the academic year to start planning your job search. There is a lot to do in your job search to be a competitive candidate. It is essential you get to know your own value proposition, research the job market and confirm what you want to do, prepare outstanding applications, succeed in the profile screening process, get ready for the interviews and even to negotiate final offers."

Magda Grucza, BSE Career Counselor