study
The Quantitative Methods for Competition Analysis course reaches professionals' homes from all over the world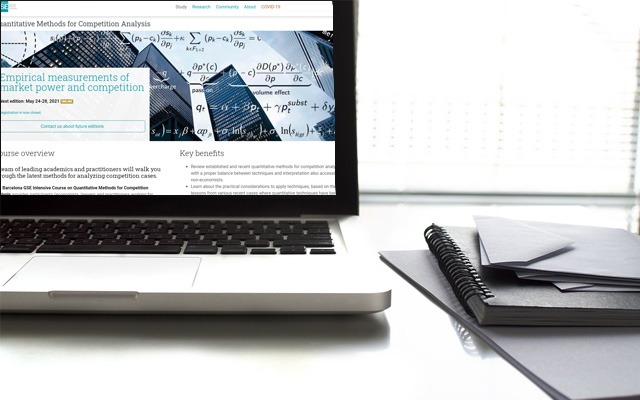 From May 24-28, the Barcelona School of Economics delivered an intensive online course in Quantitative Methods for Competition Analysis. The course covered the most recent empirical methods used in competition analysis, with applications to market definition, merger analysis and damages from anticompetitive conduct.
The program's faculty included some of the leading academic economists in the area of industrial organization and competition policy, and practitioners with extensive experience in quantitative methods in competition cases. This professional course was led by Prof. Massimo Motta (ICREA-UPF and BSE) and Prof. Frank Verboven (KU Leuven).
"The combination of lecturers from academia and lecturers from European Commission made great variety. Lectures with information from academia gave deeper knowledge of models, and lectures that described examples from commission's praxis complemented each other. Stata sessions were useful to get hands-on experience on how to practically undertake quantitative analysis."

Katarina Labajova, economist at the Swedish Competition Authority
The Quantitative Methods for Competition Analysis course has been a popular one over the years, drawing participants from antitrust authorities, consulting firms, and international organizations. This was the first time the BSE delivered the course in an online format, due to the pandemic, and it allowed 107 participants from around the world to attend safely.
"In the wake of COVID-19, I believe that the BSE did a fantastic job in designing an online format for the course for the very first time and I truly appreciated the service".

Priashvi Lutchman, Investigation Officer (Economics) from the Competition Commission of Mauritius
Some course participants' employers included:
Australian Competition and Consumer Commission
Comision Nacional de los Mercados y la Competencia
Copenhagen Economics
Danish Competition Authority
E.CA Economics
Instituto Federal de Telecomunicaciones de Mexico
Malaysian Competition Commission
OECD
RBB Economics
Swedish Competition Authority
UK Competition and Markets Authority
World Bank