research
GPEFM and IDEA doctoral students organize third BSE PhD Jamboree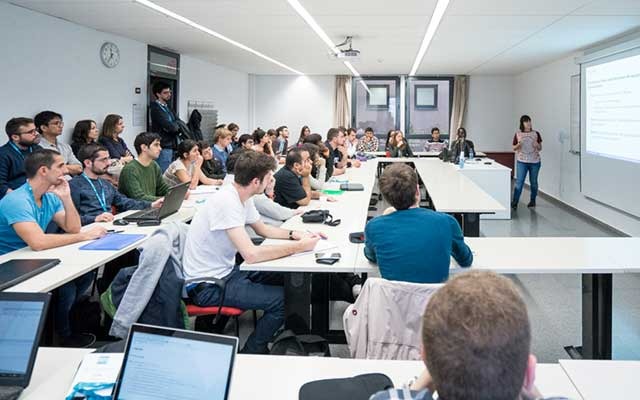 The two-day conference featured keynotes by BSE founder Andreu Mas-Colell and invited alumni from Chicago Booth and McMaster University
The third BSE PhD Jamboree took place on April 21-22, 2016 at UPF's Balmes Building. The objective of the Jamboree is to provide doctoral students in the BSE research community with a venue to exchange ideas and get feedback on their work.
The organizers and participants were students in the two doctoral programs organized jointly with the BSE: the Graduate Program in Economics, Finance and Management (GPEFM) at Universitat Pompeu Fabra (UPF) and the International Doctorate in Economic Analysis (IDEA) at Universitat Autònoma de Barcelona (UAB).
Organizers of the 2016 PhD Jamboree:
Matt Delventhal (UAB and BSE)
Alessandro Ruggieri (UAB and BSE)
Marta Santamaria (UPF and BSE)
Thomas Woiczyk (UPF and BSE)
Opening lecture by Andreu Mas-Colell
Professor Andreu Mas-Colell (UPF and founder of the BSE) opened the program with "Reflections on the Training of Economists."
Video: "Reflections on the Training of Economists"
"We were very lucky to have Prof. Mas-Colell join us for the Jamboree kick-off," said co-organizer Marta Santamaria. "He shared some thoughts on the trends in PhD education coming from his wide knowledge of the European and American systems and told us a bit of the story of how UAB and UPF grew to hold a place among the top European universities in Economics."
Alumni share current research and job market advice
Another highlight of the Jamboree was the participation of two alumni of GPEFM and IDEA who traveled from the United States and Canada to take part in the activities:
Jacopo Ponticelli (The University of Chicago Booth)
PhD, GPEFM (2013)
Jamboree Keynote: "Capital Allocation Across Sectors and Space"

Pau S. Pujolàs (McMaster University)
PhD, IDEA (2013)
Jamboree Keynote: "Nonlinear Gravity" (with Wyatt Brooks)
"Pau and Jacopo graduated from UAB and UPF recently and are now professors in McMaster University and Chicago Booth respectively. They attended the two-day conference, listening to different presentations and sharing thoughts and memories from their times in Barcelona with current PhD students," Ms. Santamaria explained. "This year, the keynote lectures by the two invited alumni also included a short talk about their job market experience and very insightful advise for the future job market candidates. Everyone was very happy to hear some first hand tips from them."
"I am still amazed how easy it was to "convince" Pau and Jacopo to join this year's edition of the Jamboree," said co-organizer Thomas Woiczyk. "It was a pleasure getting in touch with such committed alumni. Jacopo and Pau came all the way from the US and Canada to share their experience and expertise. Their involvement at the Jamboree and the fact that they deemed it worth the long travel time speaks for itself."
Two full days of research presentations
Over the two days of the Jamboree, current GPEFM and IDEA doctoral students presented 21 papers on topics such as health policy, inequality and growth, and sovereign debt markets.
"Both days were full of interesting presentations on topics ranging from education policies to banking regulation to social networks. It was a pleasure to host the BSE Jamboree this year and meet so many engaged and interested people. We are already looking forward to next year's edition," Ms. Santamaria said.
See full program of speakers and papers [pdf]
See all photos from PhD Jamboree 2016