community
Nobel Laureates John Nash and Reinhard Selten Speak at Experimental Economics Workshop
On November 29, members of the Barcelona Economics community gathered to hear four distinguished economists speak: BSE Scientific Council Member Reinhard Selten (Laboratory Bonn University), John Nash (Princeton University), BSE Affiliated Professor Rosemarie Nagel (ICREA-UPF), and Axel Ockenfels (University of Cologne).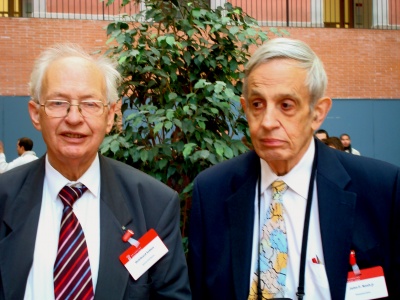 Nobel Laureates in Economics Reinhard Selten and John Nash
The talks were part of a workshop titled "Experimental Economics Across the Fields", organized by Rosemarie Nagel and Axel Ockenfels and offered by the UPF Department of Economics and Business, University of Cologne, and the UPF Laboratory for Experimental Economics (LEEX).
The event took place at the BSE Ciutadella campus at the Universitat Pompeu Fabra, one of the supporting academic institutions of the School. It drew over 100 attendees from the Barcelona Economics community, including both Affiliated Professors and students of the BSE.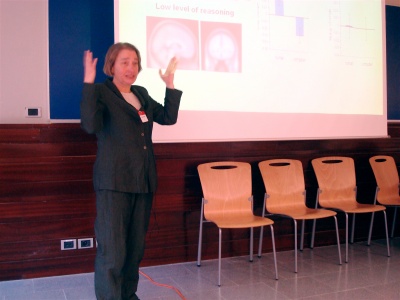 BSE Affiliated Professor Rosemarie Nagel presents her research
Scientific Council member Reinhard Selten, who knows some professors and students of the school, commented that Barcelona had become one of the "best places to study economics", citing the renowned researchers who are based in the Barcelona Economics community as well as the excellent new professors being attracted to the city.
The workshop opened with a welcome address from Salvador Barberà, Professor at the UAB and Director of the Master in the Economics of Science and Innovation. The first speaker was Reinhard Selten, who discussed his latest work, "Exchange Rate Experiments" (with R. Pope, J. von Hagen, J. Kaiser, and S. Kube).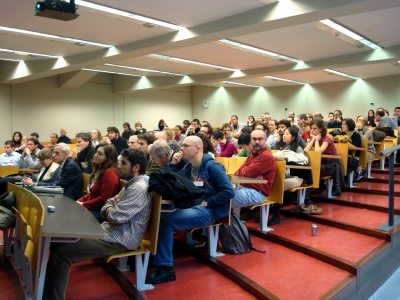 Attendees of the conference at the Ciutadella campus
Following Professor Selten was Professor Axel Ockenfels, who revealed his research on maximizing item quality and buyer confidence in "Designing eBay: Evidence from Field and Lab Behavior".
The third speaker was BSE Professor Rosemarie Nagel, who gave a talk titled "Beauty Contest in the Brain; a Neural Basis of Strategic Thinking" (with G. Coricelli), in which she examines the neural bases for decision-making and consumer behaviours.
The final talk was given by esteemed Nobel laureate John Nash, who spoke on "The Agencies Method for Coalition Formation in Experimental Games" (with R. Nagel, A. Ockenfels, and R. Selten).
Attendees of the workshop, which was open to all members of the Barcelona Economics community, were able to interact with the speakers and other economics professors during coffee breaks and a "pica-pica" lunch, as well as during Q&A sessions at the end of every talk.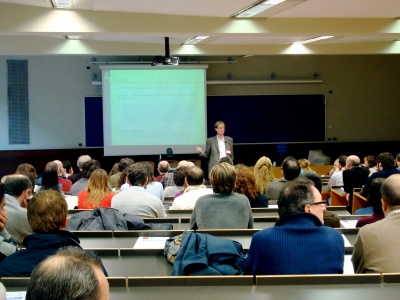 University of Cologne Professor Axel Ockenfels gives a talk