research
Nicola Gennaioli delivers 44th BSE Lecture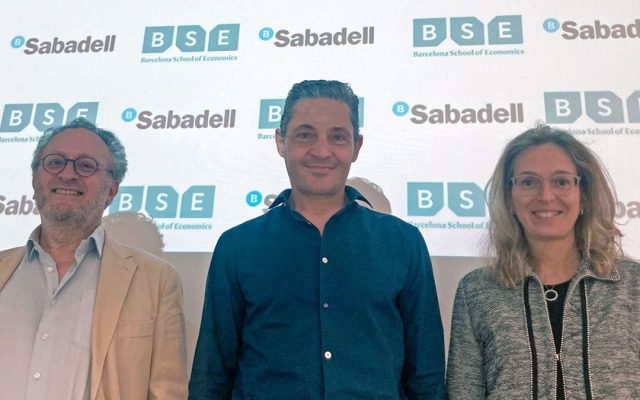 Professor Nicola Gennaioli (Bocconi University) presented his research on "Beliefs in Economics" as part of the BSE Lecture Series, which is supported by Banc Sabadell.
The 44th Barcelona School of Economics Lecture took place on May 9, 2023 at the Col·legi d'Economistes de Catalunya.
Professor Gennaioli's research explores the interplay between Psychology and Economics. In her introduction of his BSE Lecture, Banc Sabadell Chief Economist Sofía Rodríguez observed that Gennaioli's work gives economists a deeper understanding of how human behavior impacts the modern economy.
"As we witness how new drivers such as weather change, new geopolitical conflicts, post-truth, or artificial intelligence are reshaping the world economy, traditional models no longer provide us with the tools we need to reflect on economic agents' behavior," Rodríguez said. "Now we know that issues such as the certainty with which we look to the future, the way we relate to each other, and the rationality of our decisions reveal themselves as the hidden drivers of economic and social patterns."
BSE Research Professor Jordi Brandts (IAE-CSIC and BSE) explained that Professor Gennaioli's work "consists both in developing psychologically-founded models of behavior and testing these models and applying them to various domains" such as Finance, Macroeconomics, or Politics. He also welcomed Gennaioli back to Barcelona Economics community, where he was a Senior Researcher at the Center for Research on International Economics (CREI) and a BSE Research Professor.
"It's magnificent for me to be here. I feel like this is my second home," Gennaioli said before beginning the lecture. "Today I will talk about salience and memory quite a lot, and I have to say that there's so many great beautiful, salient memories of my time in Barcelona working with people here in the audience and living in the city."
Beliefs in Economics: Evidence and (Some) Theory
Video: Highlights from the 44th Barcelona School of Economics Lecture
"Beliefs" in the context of this lecture are opinions which are not necessarily based on facts or evidence. Beliefs play a role in individual economic decisions as well as market outcomes, and yet, it is only recently that economists have begun to study and measure them.
In his lecture, Professor Gennaioli shared examples of work on beliefs in the fields of Macro-finance, Labor Economics and Political Economy, and Consumer Choice. He then pointed out two patterns in the results from across fields: first, that beliefs are heterogenious (different people form different beliefs based on the same information); and second, that beliefs are not stable (they depend too much on specific and possibly irrelevant details).
Next, Gennaioli spoke about creating a unifying framework for modeling beliefs based on two cognitive factors: selective attention and selective memory.
"Growing data urges us to rethink the foundations: beliefs are central, and their instability is central. Instability does not mean opening Pandora's box, and heterogeneity doesn't mean that. There's a lot of structure out there. It can be discovered with new theory and systematic measurement that is now available. I argue this is highly relevant for understanding important problems in the economy, and the behavior of people and markets," Gennaioli said.
About the Barcelona School of Economics Lecture Series
Organized with support from Banc Sabadell, the BSE Lecture Series has brought dozens of the world's top economists from universities, central banks, and international organizations to Barcelona every year since 2003 to share their research on a range of topics on specialized theory and practice.
Previous BSE Lectures