research
BSE will host new IGL office in Barcelona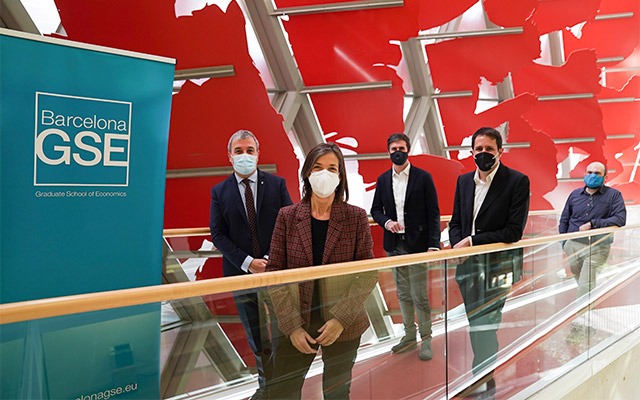 Photo: BSE Director Teresa Garcia-Milà with (from left) Lieutenant Mayor Jaume Collboni, Lorenzo di Pietro (Barcelona Activa), Albert Bravo-Biosca (IGL), and Bruno Guallar (BSE Research Manager) / Credit: Ajuntament de Barcelona
---
An agreement signed by the Barcelona School of Economics and the Barcelona City Council marked the beginning of a new research partnership between BSE and the Innovation Growth Lab (IGL) at Nesta, a British innovation foundation.
This week, BSE Director Teresa Garcia-Milà met with the lieutenant mayor of Barcelona, Jaume Collboni, and IGL Director Albert Bravo-Biosca to kick off the collaboration, which, with the support of the City Council, will facilitate the creation of a new IGL office in Barcelona within the academic and research environment of the BSE.
"As one of the leading academic institutions in economics, the BSE provides an incredible environment to conduct high-impact research and attract talent from around the world," Professor Bravo-Biosca said. "We look forward to collaborating with the BSE academic community to position Barcelona as a global reference for experimental research on innovation, entrepreneurship and growth policy."
Professor Garcia-Milà is also looking forward to welcoming IGL researchers to the BSE community. "Having an IGL office in Barcelona will foster scientific cooperation with BSE researchers and will also create opportunities for students and alumni to learn how frontier experimental research is conducted."
As a host city for IGL's research based on experiments and randomized controlled trials (RCTs), Barcelona will continue to strengthen its reputation as a hub for cutting-edge science in Europe.
Media coverage