research
Lucrezia Reichlin delivers 45th BSE Lecture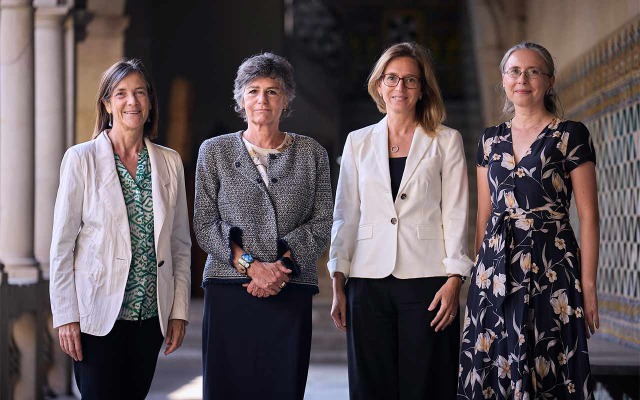 Photo (from left): Teresa Garcia-Milà (BSE Director), Lucrezia Reichlin (LBS), Sofía Rodríguez (Banc Sabadell Chief Economist), and Barbara Rossi (ICREA-UPF and BSE)
---
Lucrezia Reichlin is a renowned macroeconomist, a pioneer of "now-casting," and a role model for women in the Economics profession.
Lucrezia Reichlin (London Business School) delivered the 45th Barcelona School of Economics Lecture, "Inflation and Disinflation Puzzles," on October 6, 2023 at the Institut d'Estudis Catalans in Barcelona. This lecture series receives support from Banc Sabadell.
Banc Sabadell Chief Economist Sofía Rodríguez and BSE Research Professor Barbara Rossi (ICREA-UPF and BSE) introduced Professor Reichlin's lecture.
"Inflation has become more volatile and difficult to predict," Rodríguez said. "Not only economic authorities are puzzled by inflation. Nowadays, we economic practitioners and actually the financial world at large is trying to make sense of and shed some light on this conundrum. Luckily, we can rely on a tradition of far-reaching academic study related to inflation, among which Professor Reichlin's work is at the forefront."
Reichlin is one of the world's leading experts on forecasting, monetary policy, and business cycle analysis. She may be best known for pioneering "now-casting," econometric methods which are used today by central banks and private investors to model data in real time.
Women in Economics: Lucrezia Reichlin, Barbara Rossi, and Sofía Rodríguez
In addition to her cutting-edge contributions to macroeconomic research, Reichlin is also a mentor and role model to the next generations of economists, especially women in the profession. Barbara Rossi mentioned that she first studied time series econometrics with Reichlin in grad school. Today, Rossi is herself a leading econometrician.
"One of the features I admire the most in Lucrezia's work is her ability to answer substantive economic questions and not shy away from contributing to provocative debates," Barbara Rossi said. "Her talk is an example of this."
An institutional mentor for BSE
In 2022, Professor Reichlin became a member of the Barcelona School of Economics Scientific Council, a group of leading academics who provide stategic guidance for BSE's education programs and research initiatives. Her lecture in Barcelona has been a wonderful opportunity to welcome her to the BSE community.
Many BSE Affiliated Professors and post-docs attended as part of the annual BSE Economics Trobada, which was held in the morning. Students in the BSE Master's programs and the two PhD programs organized jointly with BSE were also invited to hear the lecture.
About the Barcelona School of Economics Lecture Series
Organized with support from Banc Sabadell, the BSE Lecture Series has brought dozens of the world's top economists from universities, central banks, and international organizations to Barcelona every year since 2003 to share their research on a range of topics on specialized theory and practice.
Recent BSE Lectures