research
GPEFM and IDEA students organize fourth annual BSE PhD Jamboree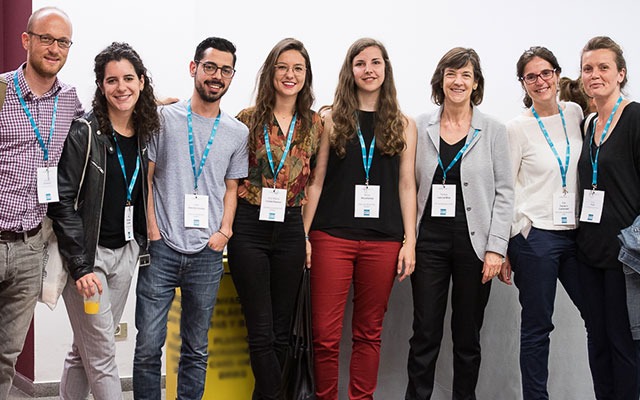 The fourth annual BSE PhD Jamboree took place on May 11-12, 2017 at the UPF Balmes Building in downtown Barcelona.
The Jamboree is a two-day workshop organized by students in the two doctoral programs in the BSE community: the Graduate Program in Economics, Finance, and Management (GPEFM) at UPF and the International Doctorate in Economic Analysis at UAB.
This year's organizers were:
Ana María Costa Ramón (UPF and BSE)
Jose García-Louzao (UAB and BSE)
Anna Houštecká (UAB and BSE)
Ana Rodríguez González (UPF and BSE)
A supportive and involved community
The goal of the Jamboree is to provide UAB and UPF PhD students with a venue to exchange ideas and get feedback on their work in progress from a wider peer community. It is one of the research initiatives supported by the Severo Ochoa Research Excellence Accreditation.
"We were very pleased to have Teresa Garcia-Milá [UPF and Director of the BSE] and Ada Ferrer-i-Carbonell [IAE-CSIC and BSE] joining us for the opening lecture," Mr. García-Louzao said. "They shared some of their current research and joined the student presentations, providing high quality comments."
Alumni return with experience and advice
The invited alumni speakers this year were Prof. Ezgi Kaya (Cardiff Business School) and Prof. Hannes Schwandt (University of Zürich). Professor Kaya, who graduated from the IDEA Program, presented research on "European Union Enlargement and the Consumption Behavior of Immigrant Households" (with Effrosyni Adamopoulou, Bank of Italy and IZA). Professor Schwandt presented "Of Hurdles and Happiness: From Failing the 3rd Year Paper to Explaining Midlife Crisis on NPR and Publishing in Science."
"It was great to have Ezgi and Hannes with us," Ms. Costa said. "They presented some of their work and shared their experience of the "making-of" of their papers. We think everyone appreciated the opportunity to listen to their views and advice."
Ms. Rodríguez noted that both alumni seemed "enthusiastic to come back to Barcelona and participate in the Jamboree. They spent both days talking to students and offered a lot of feedback during the presentations," she said.
"The high involvement of the BSE community in the Jamboree bears witness to the importance the GPEFM and IDEA students give to presenting their work or discussing the work of their peers," Ms. Houštecká said. "It was a great honor to organize the fourth edition of the BSE Jamboree and we are sure that next year's edition can only be better."
Related materials