research
Fabrizio Zilibotti delivers the 42nd BSE Lecture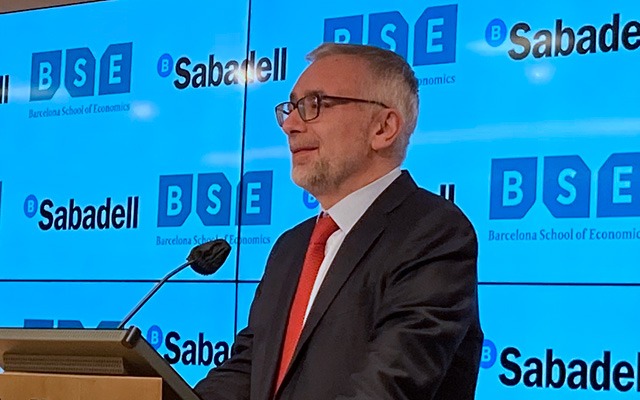 Professor Zilibotti spoke about "School, Peers, and Parenting under the Shadow of COVID"
The 42nd Barcelona School of Economics Lecture was delivered by Fabrizio Zilibotti (Yale University) on May 24, 2022 at Banc Sabadell Auditorium. The lecture was introduced by Sofía Rodríguez, Chief Economist at Banc Sabadell, and Jaume Ventura, Director of CREI and Senior Researcher at CREI, UPF and BSE.
Presenting the event, Rodríguez highlighted the raise in inequality engendered by the COVID crisis, such as in the labor market or in education, something to which Ventura added how Zilibotti, a top macroeconomist of his cohort, has shifted from earlier research in economic growth, into related relevant research about families, the role of altruism and how parents educate their children.
During his lecture, Professor Zilibotti spoke about how the pandemic is widening educational inequality and the extent to which the learning gaps created by the crisis will persist as students progress through high school, putting their future prospects at risk.
Watch the full BSE Lecture by Fabrizio Zilibotti
In his talk, Zilibotti considered that "we think of COVID as a change in the environment, and that change in the environment has produced some response partly from the peer, […] and partly from the parents." According to his models, with regard to which of these different factors matters the most, "for the average effect, the direct impact of school closure is the lion's share of the explanation, even though peer effects account for as much as 31% of the total effect."
"We should be aware that the impact effects of COVID on educational inequality are hard to undo and have lifelong consequences on children's future prospects. However, there are, of course, policies that can mitigate the problem. Provision of free targeted childcare would certainly be something useful."
While indicating that an important aspect is making sure that people enter and go back to the labor force, "awareness of the fact that some groups may need support for spending time with their children and how their children can be a useful part of the story," in terms of the relevant factors that need to be considered.
About BSE Lectures
Organized with support from Banc Sabadell, the BSE Lecture Series has brought dozens of the world's top Economics scholars to Barcelona to share their research on a range of topics on specialized theory and practice. Speakers come from prestigious universities, central banks, and international organizations.
Previous BSE Lectures