alumni
Eye on Alumni: Roger Medina '20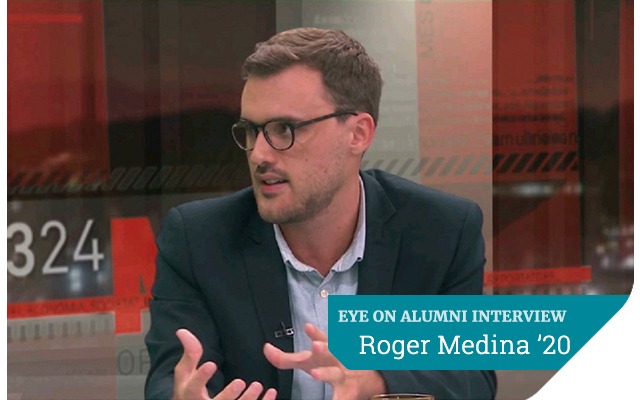 Roger Medina '20 (Competition and Market Regulation) is an Economist and Case Handler at CNMC. He explains how the master's helped him to get good qualifications in the selection process for this job position.
While I was working at Focus Economics, I was having a look at different master's of different specializations in the field of Economics, and Competition and Regulation was one of my favorite topics. I think that if you want to focus on the topics of Competition and Regulation, the Barcelona School of Economics is one of the most important institutions in Europe. Here you have Massimo Motta, the former chief competition economist of the European Commission, and other top professors from the field, either from the public or the private sector, such as Frank Verboven, Antonio Penta, Cani Fernández (current head of the CNMC and whose course is now taught by another top prestigious practitioner, Carles Esteva Mosso). I finally decided to join the BSE because it was a one-year program and then I wanted to go to the labor market.
You are now working at the CNMC. Which are your tasks and responsibilities there?
I am working at the Subdirectorate of Market Analysis for Electronic Communications. We analyze the Spanish telecoms market and impose different regulatory obligations established in the European Electronic Communications Code. There are markets, such as energy or telecommunications, that have structures or conditions (for instance, natural monopolies) that can raise competition concerns, and sometimes it is necessary to impose some ex-ante regulation to foster competition and increase consumer welfare. In order to carry out our analysis, we receive a huge amount of data from different operators that are obligated by law to send us this type of data. As regulators, we also mediate in disputes that arise among operators or between operators and other entities that benefit from the obligations for access and interconnection. We also perform economic replicability tests and deal with the accounting of operators to conduct cost accounting that ensures data-driven decision-making.
These topics are related to what you studied in the Competition and Market Regulation program, right?
The knowledge you acquire in the master's at the theoretical but also at the empirical level is very useful, especially the way to think as a competition economist to what is important to consider in each market. In this case, there are a lot of regulatory topics where you can apply the knowledge acquired in the Quantitative Methods of Market Regulation course that shows you how to analyse the structure of costs of a specific operator. You need to use some quantitative techniques, but you also need to have some theoretical idea of what you want to achieve. It is also important to do dynamic and prospective analysis of the competition conditions of the market.
Could you explain how the process was to apply for this job position at the Spanish Competition Authority?
In my case, it was a very long process due to the pandemic. The selection process was formally published in the BOE in December 2019 and we were supposed to do the first part of the exam in March 2020, but then the state of alarm was declared and the process was suspended. It was not until September 2020 that the first part of the process was done. The whole process usually takes 6 months since you start, but in my case I started at CNMC in February 2021, so it took more than one year.
Regarding the preparation for this process, I think that it is not difficult to pass it if you have specific knowledge about economics, competition, and regulation, and if you are familiarized with the relevant issues that are now being discussed (for instance, digital economy). However, people who come from other fields may need to do some extra work. In my case, I am also studying an online law degree at UOC, which is a very good complement of the master and allows me to have a deep understanding of the legal framework for the specific application of the competition law and regulation.
The selection process has two main parts that are analyzed: written exercises and merits. The written exercises consist in different tests that try to evaluate your knowledge about mathematics, basic economics, competition, law, and English, and you need to pass all these exams to continue the process.
Then, in the selection process they gave me an academic paper related to competition and market power from the European Central Bank (it is different depending on the position you apply for), and I was asked to do an executive summary and answer some technical questions. I also had to present it in front of a tribunal and I explained some elements that I learned in the Digital Economy course of the BSE Master's Program, so the Master really helped me to make the difference in this part of the process. Then they award you points based on your academic and work experience. The last part of the process was a personal interview.
After finishing the master you also started working as an analyst for the television, what are the topics related to the master that you discuss more frequently? Do you think that debates related to market competition and regulation are becoming more prevalent in the media or the public debate?
Yes, topics such as energy markets are becoming more prevalent in the media since it is a very technical and highly-regulated market. For instance, I have tried to explain why it is important to speed-up the deployment of renewable energy to achieve decarbonization targets, and in particular carbon neutrality by 2050, or why electricity prices on the wholesale market continue to hit record highs.
Apart from enforcing competition law and regulation, another important task of competition authorities and regulatory entities is competition advocacy, which basically means promoting the culture of competition and explain why it is important to have competition in all markets, not only in private markets but also in the case of the public sector (public procurement, state aid or better regulation). That is why, as analyst, I try to explain why it is important to ensure that we have competitive markets that increase consumer welfare and lower prices, which ends up being good for everyone.
> Connect with Roger Medina on LinkedIn
> Learn more about the Master's Program in Competition and Market Regulation