alumni
Eye on Alumni: Marie Thylén '19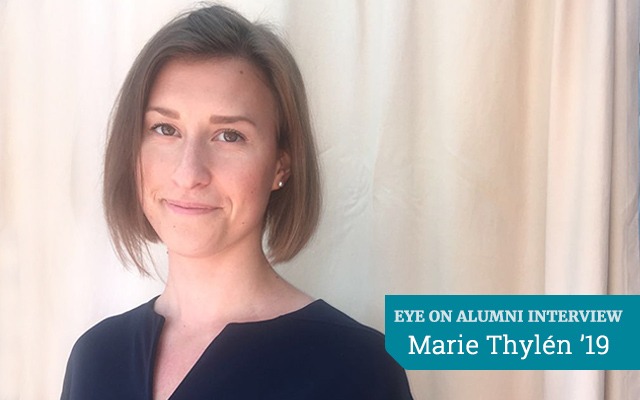 Marie Thylén '19 (Economics of Public Policy) is a Senior Policy Analyst at the Office of the President of The Gambia, through the ODI Fellowship Scheme.
I was working in the Swedish central bank conducting policy analysis, writing policy papers, and coordinating positions on policy when I heard about the program. It was the first Master's I'd heard about that combines the elements of economics and public policy so clearly, at least in Europe. I thought it was exciting and feasible with my profile.
How do you remember your experience at the BSE?
I remember that it was a very tough year, but also that it was incredibly interesting. I truly enjoyed all the classes and courses. The professors were mostly excellent. My classmates and the international community were also amazing. I did enjoy it, but I was very demanding.
Which skills did you acquire in the Economics of Public Policy Program?
I acquired a lot of knowledge and theoretical skills. I would highlight working with very good people, multitasking, and organizing. It is a program with students of many different nationalities, and most of the work is in teams, so you do have to adapt to very different approaches, views, deadlines, and so on. The Master's gives you plenty of opportunities to practice your multitasking skills, discipline, organization, but also flexibility.
Could you talk about the relationship among students and professors?
I felt I had a good relationship with my professors. They were all very attentive to answering questions and concerns and supporting you in your work. Considering that it was such a small class, you have a very good connection with your professors. They were also very available, and you had special hours when you could go for advice in their office.
Before the Master's, you were working as a Junior Economist in Sweden. Now you are a Senior Policy Analyst in The Gambia. How did the Master's degree help advance your career?
The Master's from BSE definitely helped me to get this job. Considering that this program is so specialized, combining public policy and economics so clearly, it does give you a very unique profile. One of the things the program prepared me to do was reviewing all the policies and trying to promote evidence-based policy decisions, which is also the core of the Economics of Public Policy Program at the BSE. In your career, you have multiple objectives, and one of my goals has always been to work in a developing country as I'm doing now in The Gambia. I really enjoy living here. People are very nice, and the weather is also good. My job is very interesting, and I have an amazing boss and colleagues.
> Connect with Marie Thylén on LinkedIn
> Learn more about the Master's Program in Economics of Public Policy