alumni
Eye on Alumni: Liliana Cruz '20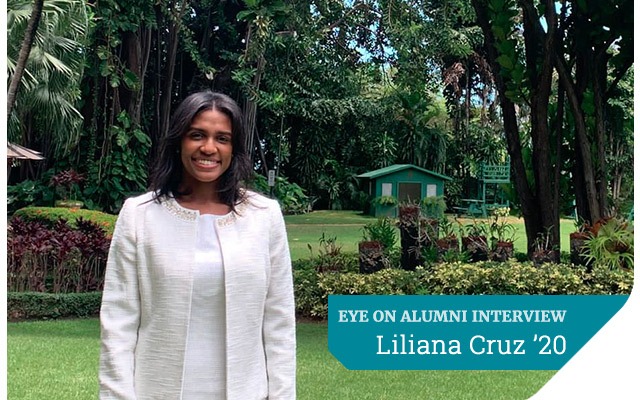 "I was impressed by the level and quality of the instruction and the teachers of the BSE Macroeconomics Policy and Financial Markets, which was stunning. It really made a big difference."
Liliana Cruz '20 (Macroeconomic Policy and Financial Markets), is Head of Economic Analysis in the Dominican Republic. In this new Eye on the Alumni she explains why she enrolled for her master's at BSE and how her experience was.
How do you remember your experience studying at the Barcelona School of Economics?
My experience was very different from that of previous cohorts because of the coronavirus. It was really tough. I have great memories, though. I remember working harder than I ever thought I could do. We had great support from the teachers and the director. Everybody was very willing to help with any doubts, in support of our learning process.
In the past, I had already taken a master's degree in Applied Mathematics. Despite any head start from that, I was impressed by the level and quality of the instruction and teachers of the BSE Macroeconomics Policy and Financial Markets, which was stunning. It really made a big difference.
As you mentioned, your experience was quite different from previous cohorts because of the pandemic. Can you explain how it went?
At first, the uncertainty concerning the virus and its evolution provoked a lack of information, which was a very frustrating situation. The pandemic was declared the week before the second term exams and we couldn't study properly, but we found support from all the directors who also gave us more time to understand and adapt to what was going on.
My last term was completely online and the number of things I could learn in those 2 months was crazy. While it was frustrating because of the virus, I had a good experience nonetheless. The school managed the situation very well.
Why did you apply for the BSE Macroeconomic Policy and Financial Markets Program?
Because I love macroeconomics and there was no other program in the world that offered something similar, at least none that I could find. All other programs that I could see were like an extension of the undergraduate degree, but the BSE program looked like something really unique. Also, I had really good feedback from other colleagues that had studied here the previous years.
One of the top teachers I had had in the past, asked me what I wanted to do next. He recommended me to take that program, because a lot of coworkers had done so and they knew first hand that the quality of the teachers is top level, so I decided to apply as well. In fact, I was thinking that BSE should have an extension of the program for former students. I felt I was so in love with the program that I would absolutely take it again. This is my personal experience all right, but to me, the Barcelona School of Economics and that program specifically are top.
Since you completed the macro program you are working as a Head of Economic Analysis in the Dominican Republic government. Can you explain which are your tasks and responsibilities?
I am in the Ministry of Tourism of the Dominican Republic and my tasks here are doing macroeconomics in this sector. I am involved in a lot of things such as the tourism macro accounts, the research part, and the development of all the structures for building a proper macro environment, as here there was nothing like that implemented before.
Did the master's equip you well for this position?
Yes, it did. Actually, I'm oriented more towards policy stuff, and here I had to push that a little bit because it's still a rising sector. I don't deal much with monetary policy, but in the end, I am looking forward to doing what I love the most, which is monetary policy.
I know I am well-equipped because the macro program gave me the skills to analyze things from a wide perspective and gave me a lot of quantitative tools that I'm using here to do forecasting. That, on top of the stuff that I learned in the last term, which included really innovative things. And here I am, applying all what I learned.
Connect with Liliana Cruz on LinkedIn
Learn more about the Macroeconomic Policy and Financial Markets Program