alumni
Eye on Alumni Interview: Rebecca Lavinson '14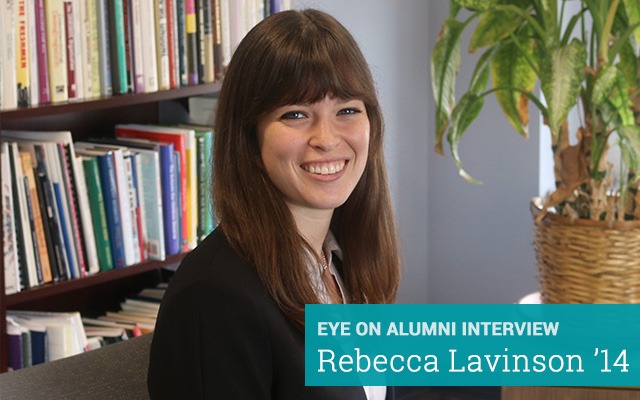 Rebecca Lavinson (Economics of Public Policy '14) is a Policy Associate at the American Youth Policy Forum in Washington, DC. She says the Master's gave her the start she needed to pursue the work she is passionate about.
Describe your career path since graduating from the BSE Master's.
During the spring trimester of the BSE Master's in Economics of Public Policy, I was offered an internship at the Organization for Economic Co-operation and Development (OECD) within the Center for Tax Policy (CTP).
After gaining experience as an intern in international tax policy, I decided that I wanted to learn more about the education policy sector, an area that I was familiar with through prior classes and my BSE Master's project. I worked on education policy as a consultant at the OECD for two years, first within the Education Directorate with OECD countries, and later within the Latin American Unit of the Development Center on education policy within Latin American countries. By the time I had finished my consultancy work with the OECD, I was sure I wanted to pursue a career in education policy.
After the OECD, I worked freelance, first for UNESCO within their Education Sector and later for the National Institute of Education, Singapore, all while living in Paris. I recently found a job in Washington, DC, with the American Youth Policy Forum where I am currently addressing US education policy with a focus on underserved youth.
Tell us about your most memorable project or moment so far.
I really enjoyed working on the Global Education Monitoring (GEM) Report 2017 for UNESCO, in which I wrote a background paper on the affordability and accessibility of higher education internationally. This project enabled me to fully focus my work and energy on a topic within education policy that is of high importance to me: the intersection between higher education access and equity.
I also enjoyed working on the Trends Shaping Education 2016 publication at the OECD in which I got to work creatively in selecting data and discussing external factors and trends that influence all levels of education within OECD countries.
Which concepts or skills from the Master's in Economics of Public Policy have been most valuable for you in your work?
The EPP Program taught me how to think analytically, whether analyzing primary data or evaluating a published study. I learned to think critically about everything I read and hear and to always ask questions and for clarifications.
Since leaving Barcelona, you've had positions in France and Washington, DC. How did the Master's prepare you for such an international career?
The BSE is incredibly diverse with respect to the make-up of its student body. I learned how to interact with peers from many different countries and cultures through my classes as well as my living situation with BSE roommates, each of us from a different country. I learned to appreciate their diverse perspectives and realized that each country has something valuable to add to the policy conversation. I also improved my adaptability regarding my work environment, learning to adjust to the different working styles of my peers from different cultures.
Is this more or less what you pictured yourself doing after the master program?
Before attending the BSE, I was not entirely sure what I wanted to do afterwards. The Master's helped me clarify not only the policy area I wanted to pursue, but also identify the skills that came naturally to me as well as those that I wanted to develop further throughout my career. The BSE helped me develop and define my career preferences.
Would you recommend this program to others who would like to follow this career path? Has it made you stand out from other applicants who might have a different type of Master's or academic background?
Yes. I believe that the BSE gave me the start I needed to pursue the work that I am passionate about. It provided me with the skills necessary to succeed at my first job at the OECD, and doing my Master's in such an international environment was a good signal for employers that I could adjust to any type of work environment and work with colleagues from different backgrounds. It also meant that I had a broader perspective on policy issues and was aware of more possible solutions than just what exists within one country. My knowledge of policies and best practices is not determined by where I come from, but rather has been informed by the diverse interactions I have had with my BSE peers from all over the world.
Are you in touch with the other BSE alumni?
I benefitted a lot from the BSE community in Paris when I was there, which is very active in planning alumni gatherings. I became closer to several alumni from my year and also became friends with alumni from previous years through these events. It was great to have the BSE community close by in a new country, and together we were able to discover and settle into the French culture. Also, I will get to see one of my BSE roommates and several of our classmates at her wedding in Italy this fall!
Connect with Rebecca on LinkedIn
---
More interviews with Economics of Public Policy alumni