alumni
Eye on Alumni Interview: Benjamin Anderson '15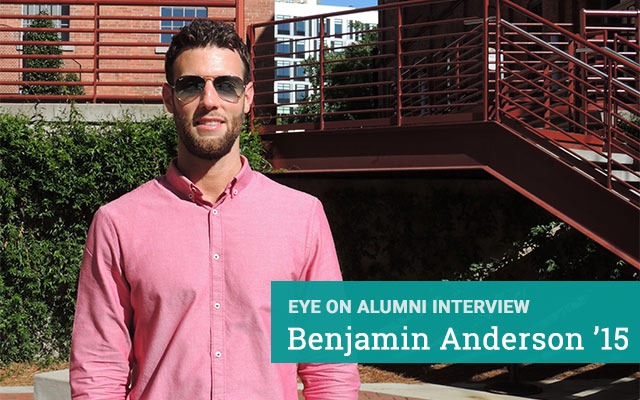 This Economics of Public Policy alum is a Data Strategist for Made in Durham, an organization that works to improve education and career outcomes for young people.
Where has your career taken you since graduating from the BSE?
Varied. While wrapping up the Economics of Public Policy program at the BSE, I was transitioning into a summer internship with Nesta's Innovation Growth Lab where I helped to develop their RCT database, which is basically Economics of Innovation studies distilled into a practical resource for practitioners in business and policy.
By the fall, I had transitioned into a research assistantship for Joan Llull, one of my professors during the master. Working for Professor Llull was an outstanding experience, as it gave me a taste of what it's like to work in the academic field, exposed me to some interesting econometric methods, and allowed me an opportunity to work with geospatial data for the first time.
Finally, for the past four months, I have been working for the "backbone" organization (which is technically incorporated as an independent nonprofit) of a partnership collaborative comprised of prominent institutions in the public, private, and nonprofit sectors in Durham, NC, formed around the vision of every Durhamite attaining living wage work by age 25.
Tell us about your most memorable project or moment so far.
I can't name one thing, but what stands out is the diversity of experiences in such a short time. In my current role, it has certainly been fascinating to meet and work closely with leaders in local government, business, nonprofits, and even a state senator, to help facilitate the use of evidence in practice.
How did the Economics of Public Policy master's prepare you for working with practitioners?
The expertise in quantitative methods and economics of public policy knowledge that I gained at BSE is essential to help bridge the communication and information gap between empirical evidence and the decision-making of practitioners. These skills enable me to develop strategies and draw conclusions with confidence when consulting with partners.
Is this more or less what you pictured yourself doing after the master program?
The research was, but there was no way to predict that I would be in the position that I am in now. I am essentially halfway between research and policy / programmatic practitioners, and it's an exciting place to be.
The knowledge that I gained is essential when working with partners in academia and to setting strategy with respect to data. Meanwhile, some of the work, such as advocating for certain projects, requires good judgement and communication. The need to apply a combination of quantitative knowledge along with relationship- and trust-building activities that come with working in a collective action setting makes for many interesting, fun, challenging, and unexpected days on the job. These highly relationship-dependent dealings force me to approach my own work with, to a certain degree, a game theoretical approach.
I've tried a number of different roles during this early part of my career, which requires some tolerance for risk and uncertainty. I think for me and many people, the perfect job description simply doesn't exist, and if it did, I wouldn't have had enough experiences to know it. Therefore, I've concluded that for myself, if I want to maximize my long-run satisfaction, I need to experiment by doing while continuing to invest and challenge myself to learn new skills, especially in the earlier part of my career. Regardless of one's interests, it's essential to give 100% at whatever one chooses to do in order to get the most out of the experience.
How is life back in the United States? Are you able to keep in touch with fellow BSE alumni?
Durham, NC is a really cool place. It is home to Research Triangle Park (RTP), which operates in close partnership with the major universities in the "triangle", UNC-Chapel Hill, Duke, and NC State. The metro area has a lot to offer in terms of culture and diversity, and is one of the fastest growing in the US.
My thesis partner from EPP is in the PhD program at UVa in Charlottesville, VA, which is not too long of a drive. Interestingly, another BSE alum has put me in touch with some of his friends who are currently living in Durham; unsurprisingly, they are great people!
What do you miss most about the BSE?
What I miss most about the BSE is the learning environment. The classmates, professors, and staff who all contributed immensely to my growth. I could go on forever about how much value was added by the diversity of educational and professional backgrounds, experiences, and cultures.
I'd be remiss if I didn't acknowledge that location played a big role, too. Regardless of the academic pressures, every time you emerge from the classroom or the library, it's still Barcelona outside and the culture is more relaxed. That elevated my perspective at times, whereas in less relaxed environments, I may have struggled to decompress in times of high stress.
It sounds like you always keep things in perspective...
The master program changed the ways in which I look at or approach certain things. The way I examine choices is also different. I would venture to say that somehow the program helped to reinforce my intrinsic motivation and enjoyment of challenging tasks. I'm not sure what the future has in store, but I'm confident that my year at BSE is a crucial factor in maximizing it.
---
Benjamin Anderson '15 (Economics of Public Policy Program)
Data Strategist
Made in Durham
Durham, NC (United States)