alumni
Eye on Alumni: Cesar Mora '19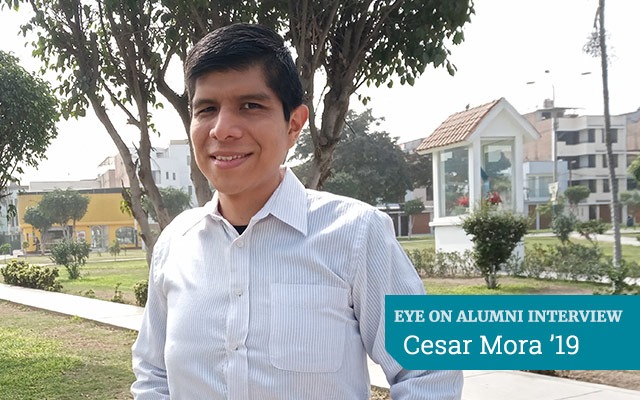 "In 2017, I decided to attend the BSE Summer School. It was such a great course that it convinced me to have the full experience of studying a new Master's degree at BSE."
César Mora '19 (Economics of Public Policy) is a Microeconomics and Econometrics lecturer at Universidad Peruana de Ciencias Aplicadas. In this Eye on Alumni interview, he highlights the value of the experience of his master's at the Barcelona School of Economics not only for the professional impact but also for its personal growth.
You did the Economics of Public Policy Master's Program in 2018, how do you remember your experience studying at the Barcelona School of Economics?
It was a really valuable experience not only from the professional point of view but also for my personal growth. I met a lot of talented students from around the world and I learned enormously from them. The campus environment was also nice. We had a very close relationship with professors, who were always willing to help us. The experience in Barcelona was very good. We spent a lot of time in the library, but during our free time we had the opportunity to get to know the city a little bit more, as well as other places in Spain and in Europe. It was a great opportunity to discover other places, as distances in Europe are relatively short and tickets are not expensive. It was so easy to discover new cultures and meet new people while being here.
You had some work experience in different positions such as Research Assistant or Quantitative Analyst. Why did you make the decision of studying the Economics of Public Policy Program?
I always considered doing an international master's to focus my attention on applied research. I felt this master's would be very useful to me because of its very applied focus. Some of my friends and colleagues had taken the master's at BSE and, in 2017, I decided to attend the BSE Summer School. It was such a great course that it convinced me to have the full experience of studying a new master's program. I chose the EPP Program because it is closely related to my previous experience.
I seeked to strengthen my research skills as well, as the master's is very applied and focused also on research projects. We made a lot of research: not only the end master's thesis, but also a final paper for some courses. I felt I could contribute to my classmates and that they helped me too to understand and learn new points of view. The profile of my fellow students was very different from the participants' profile of the Summer School I had attended. Master's students were younger, but it was impressive how talented and competitive they were.
I have been always involved with teaching, some hours per week, and I must admit I like it. After the master's, I got the opportunity to teach more time per week. The research and papers I did could then be used as material for students to learn and see other perspectives. I am using some of these references to teach in my classes.
In my free time, I keep developing new skills. Nowadays, it is very valuable to know the fundamentals of data science or to learn programming. So, I am thinking of taking a course in data science, because I consider it a very powerful discipline. In fact, the Barcelona School of Economics offers a new Master's Program in Data Science focused on Decision Making, with Hannes Mueller, with whom I studied previously at BSE, as a Program Director. I think it is very interesting option.
Could you explain how was the leisure time with your classmates?
There were some activities per term organized by the school. I strongly recommend new students to attend to those, to socialize with other students while doing the master's. One should not only study hard, but also leave some room to have fun. It is very important to attend to such events and to socialize. I remember the futsal tournament, which many people joined and for which we made teams and competed with other master's programs. We would spend time with friends, colleagues, and professors. I am really fond of them.
Would you give any advice to new master's students?
My first advice for new master's students is to be well-prepared at least for the introductory courses. Next, they should be very open to meet new people. Networking is very important to enjoy and take advantage of the master's. The master's is not only about individual studying: you also have to do teamwork, study in groups, understand and enjoy learning about different points of view... and all this, taken together, will make of your master's a richer experience, definitely leaving a deeper imprint.
Connect with Cesar Mora on LinkedIn
Learn more about the Economics of Public Policy Master's Program