research
Esther Duflo, first recipient of the Calvó-Armengol Prize, shares 2019 Economics Nobel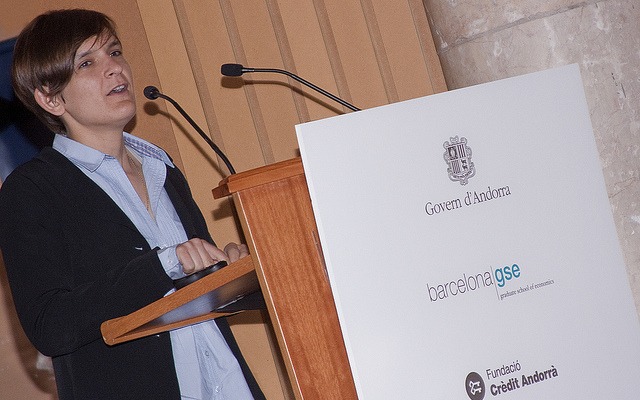 Esther Duflo gives the first Calvó Prize Lecture in Barcelona in 2010
---
The Royal Swedish Academy of Sciences will award the Sveriges Riksbank Prize in Economic Sciences in Memory of Alfred Nobel 2019 to Abhijit Banerjee (MIT), Esther Duflo (MIT), and Michael Kremer (Harvard University) "for their experimental approach to alleviating global poverty."
"This year's Laureates have played a decisive role in reshaping research in development economics. Over just 20 years, the subject has become a flourishing, primarily experimental, area of mainstream economics. This new experiment-based research has already helped in alleviating global poverty and has great potential to further improve the lives of the most impoverished people on the planet," according to the popular science summary of this year's Nobel memorial prize.
In addition to being the youngest researcher who has ever received the Economics Nobel and only the second woman to do so, Esther Duflo is also the first laureate of the Calvó-Armengol International Prize in Economics to win the Nobel.
The "Calvó Prize" was established by the Barcelona School of Economics together with the Govern d'Andorra and Crèdit Andorrà to honor the memory of Antoni Calvó-Armengol. It has been awarded every two years since 2010 to a top researcher in economics or social sciences younger than 40 years old for contributions to the theory and comprehension of the mechanisms of social interaction.
In her acceptance speech for the inaugural Calvó Prize in Andorra in 2010, Duflo observed connections between the Calvó Prize's namesake and her own.
"[Toni Calvó] and I shared a fundamental idea about what economic science can and should offer society...His work has given us the methodological tools for incorporating non-market social relations within the framework and the mathematical language familiar to economists," she said.
Watch more videos from Esther Duflo's Calvó Prize in our YouTube playlist
From Calvó Prize to Nobel Prize in just nine years
At Duflo's award ceremony for the Calvó Prize, BSE founder Andreu Mas-Colell spoke about the high expectations that he and fellow creators of the Calvó Prize had for its laureates. "An award's prestige is a reflection of the prestige of its recipients. With Professor Duflo, we're starting off very well indeed," he said.
While Professor Mas-Colell has sustained from the beginning that he saw the Calvó-Armengol Prize as an indicator for future recipients of the Nobel memorial prize in Economics, he may not have expected to see it bear fruit so quickly. Indeed, Professor Duflo herself expressed surprise during a press conference at MIT this week. "Usually a Noble prize goes to a male economist over the age of 60," she said. "Being a woman working on social issues, I hope that it can also be a kind of role model for others" to inspire them to consider becoming economists.
Antoni Calvó-Armengol would certainly be pleased with such an outcome.
Learn more about the Calvó-Armengol International Prize in Economics