research
Economists from around the world attend major conferences hosted by BSE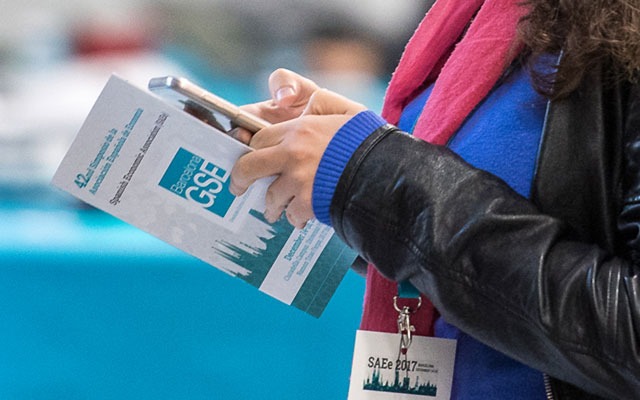 Last December, the Barcelona School of Economics hosted two major events for economists: the European Winter Meeting of the Econometric Society (EWMES) and the Symposium of the Spanish Economic Association (SAEe). Both events drew hundreds of economic researchers to Barcelona to participate in workshops, listen to distinguished speakers, and exchange ideas with colleagues from other institutions and other countries.
For more than 50 years, the European Winter Meetings of the Econometric Society (EWMES) have fostered interaction among a small group of young scholars and a group of senior academics representing different regions and fields of specialization. Many of today's leading European economists kick-started their careers at one of these meetings. This year's plenary speakers were Ran Spiegler (University College London and Tel Aviv University) and Hans-Joachim Voth (University of Zürich). The BSE hosted EWMES at Casa Convalescència (UAB).
More than 400 economists from institutions in Spain and around the world gathered for the 42nd annual Symposium of the Spanish Economic Association (SAEe), hosted by the BSE at Ciutadella Campus (UPF). The keynote speakers were Carlos Garriga (Vice President, United States Federal Reserve Bank of St. Louis), Barbara Petrongolo (Queen Mary University London) and Luisa Fuster (Universidad Carlos III). The presidential address was delivered by Juan Francisco Jimeno (Head of the Modeling and Macroeconomic Analysis Division, Bank of Spain).
In addition to a full program of presentations and distinguished keynote speakers, the "Simposio" is also the setting for one of the most important job markets in European for PhD candidates in Economics. One of the highlights of this year's edition at the BSE was the announcement of the Unicredit & Universities Job Market Best Paper Award. One of the two recipients was Federica Daniele, a graduate of the BSE Master's Program in Economics and PhD candidate in the GPEFM doctoral program (UPF and BSE).
Over the years, the BSE has hosted a number of conferences and meetings for the international research community, such as:
This June, the BSE will hold the sixth annual Summer Forum, a series of independent workshops that cover the main fields of Economics that draws hundreds of top researchers from around the globe (793 researchers from more than 200 institutions worldwide for the 2017 edition).
Harvard University Professor James Snyder notes that the BSE Summer Forum has become one of the most important meeting points where economists and political scientists exchange ideas.
"The fact that there is a critical mass of scholars with overlapping research interests, combined with the excellent work of the organizers, makes sure that the quality of the presentations is high and the discussion is lively. I would definitely recommend U.S. scholars to participate," Prof. Snyder said.