study
Congratulations to the Class of 2023 on your Graduation!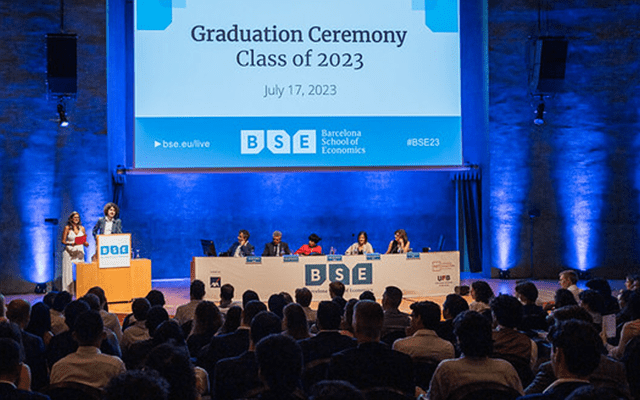 The 16th cohort of BSE Master's students graduated in a ceremony that featured a keynote by Vice Chairman of the UniCredit Foundation, Giorgio Barba Navaretti.
On Monday, July 17, 2023, the Barcelona School of Economics held the 16th edition of the Master's graduation ceremony at the AXA Auditorium in Barcelona, Spain. Students, family, friends, and faculty gathered from around the world, in person and via our live stream to celebrate the achievements of the Class of 2023.
Graduation Ceremony
Graduation ceremony program
WELCOME
INTRODUCTION FROM OUR CHAIR
KEYNOTE SPEAKER
MESSAGE FROM UNIVERSITY REPRESENTATIVES
Helena Ramalhinho, Vice Rector of Internationalization Universitat Pompeu Fabra (UPF)
Xavier Ramos, Vice Rector of Economy at Universitat Autònoma de Barcelona (UAB)
AWARDING OF CERTIFICATES
Master's Degree in Data Science
Master's Degree in Economics and Finance
Master's Degree in Specialized Economic Analysis
ALUMNI REMARKS
STUDENT REMARKS
Becoming agents of change
The ceremony was conducted by BSE Director, Prof. Teresa Garcia-Mila who welcomed attendees and introduced the other members of the panel. This year's keynote speaker was Prof. Giorgio Barba Navaretti, Vice Chairman of the UniCredit Foundation and professor at the University of Milan, who spoke about article one of the General Agreement on Tariffs and Trade (GATT, 1947) and how this relates to our new graduate's careers and future as they become agents for change.
Barba Navaretti was keen to encourage the students to use their experiences at the BSE to prepare them for success in the future and to keep striving for better during uncertain and ever-changing times.
Helena Ramalhinho, Vice-Rector of Internationalization at UPF, and Xavier Ramos, Vice-Rector of Economy at UAB echoed these messages with heartfelt congratulations to this year's graduates. Each student then took to the stage to collect their certificates from our panel to great applause.
Define your own metrics of success
The ceremony concluded with speeches from alumni and current students and was a clear highlight of the proceedings. Josefina Cezón, an alum of the 2019 Economics program highlighted the importance and power of recognizing your own uniqueness and using it to guide you to your personal success.
"Unfortunately success is often measured in comparison to others, we constantly seek external benchmarks, today I invite you to find those benchmarks within yourself and define your own metrics of success and use those to measure your growth," Cezón said.
In their speech to fellow graduates, Cathal Leslie and Giovanna Chaves reflected on the past year and the community they have now built as a result of being graduates of BSE and an insight into what's to come.
"It is a privilege to be part of such of a diverse community. Between the two of us, we are confident in our classmates' unique skill sets to truly change the world." they both said.
Photo album from Graduation Ceremony 2023
Welcome to the BSE Alumni Network: Your future starts here
Congratulations to all of our students who graduated this year, you should be very proud of what you have accomplished; we're confident you will go on to achieve great things.
BSE is here to continue supporting you now that you are BSE Alumni. We aim to help you grow professionally and achieve your career goals through our Career Services department, network with fellow alumni through the alumni platform and mentoring services and take advantage of the discounts we offer to alumni on all professional and Summer School courses at BSE.
Find out more about the ceremony