study
Class of 2020 career placement report proves demand is still strong during pandemic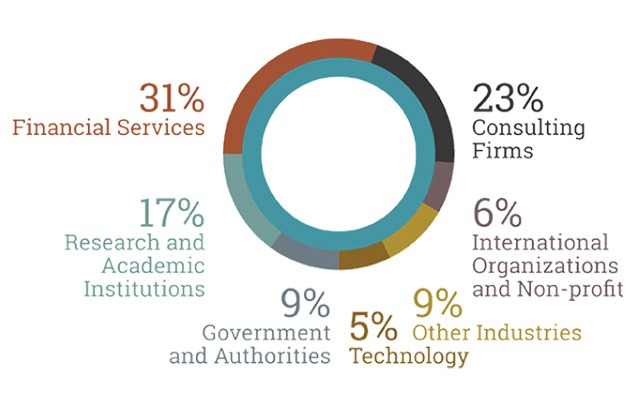 Placement rate and class trends are calculated from information reported by alumni to BSE Career Services.
---
90% of the BSE Master's Class of 2020 seeking a job or entry to a PhD program reported success within six months of graduating.
In what has surely been one of the most unusual and difficult years for making a career move, 152 out of 169 graduates from the BSE Class of 2020 (90% of those seeking placement) have been hired for a professional position related to their Master's studies or accepted a place in a post-graduate program.
Demand for BSE candidate profiles remains strong during the pandemic
Hiring slow-downs and mobility limitations are just two of the factors that have impacted employers and job seekers with varying levels of intensity throughout the evolution of the coronavirus pandemic. However, Economics and Finance positions and Data Science job functions have not been affected as deeply as some other professions, just as BSE career counselors assured the Class of 2020 in a webinar and white paper on COVID-19 and the job search that they produced last April.
In fact, some recruiters noted that the pandemic situation had some advantages for their hiring processes. For example, the flexibility of online work allowed some organizations to look beyond the local pool of candidates. This opened up additional opportunities for BSE Master's graduates, especially for those seeking typical first placements such as an internship or junior consultanting position.
"My directorate recently hired two graduates based in Spain and Italy through the BSE online job portal. The career service also helped us organize a corporate presentation about the OECD and one-on-one meetings with current students through a video conferencing platform."

Thang Nguyen '13 (Economics of Public Policy)
Economist, OECD
BSE career counselors supported students online with individual guidance, training webinars, and recruiting events
The Career Services team arranged for recruiters to give online talks in place of campus visits. To ensure that students had all the tools they would need for a successful search during the pandemic, the team organized several coronavirus-related webinars on mobility, visas, and online interviewing skills. They also conducted one-to-one sessions online so that each student felt as guided and supported as they would have on campus.
The feedback from students about the services they received has been very positive. Several highlighted the personalized career guidance provided by the BSE Career Counselors, which helped them identify which career best fit their personal interests and gave them confidence in their job search.
"Choosing which career to pursue after finishing your Master's degree is one of the most important decisions in your life. In this situation, the support of the team is crucial. With their expertise, they help you to consider aspects that you would have omitted. One aspect I especially value is how they inspire you to go for all. Coming from the Barcelona GSE, you can make it into any organization or job."

Joaquín Fernández '20 (International Trade, Finance, and Development)
Research Assistant, The World Bank
90% (152 out of 169 students) seeking placement were successful within 6 months of graduation
Out of those placed, 76% chose to enter or return to the professional work force, while 24% entered a PhD or other post-graduate program of study immediately after the Master's program.
PROFESSIONAL VS. ACADEMIC PLACEMENT
Financial Services and Consulting were the top choices for professional positions
31% of students took a job in Financial Services, and 23% chose Consulting Firms. The next most common choice were Research and Academic Institutions (17%), followed by Government and Authorities (9%), Other Industries (9%), International Organizations and Non-profits (6%) and Technology (5%).
Examples of employers hiring BSE graduates in the Class of 2020 (# of students hired)
Industry
Example employers
Financial Services
31%
European Central Bank (14), CaixaBank Research (4), Banc Sabadell (2), BBVA (2), Goldman Sachs, Novum Capital, Piraeus Bank, Reserve Bank of Australia (one student each)
Consulting
23%
Dalberg, KKS Advisors, RBB Economics, The Brattle Group (2 students each), Accenture, Arthur D Little, CEPA, Deloitte, KPMG,

NERA Economic Consulting, PwC, Vivid Economics (one student each)
Research & Academic Institutions
17%
BSE Data Science Center (3), DIW Berlin, ESADE Business School, IESE Business School, Princeton University, Seoul National University, Stanford University (SIEPR), University of Zurich (one student each)
Government & Authorities
9%
Turkish Ministry of Treasury and Finance (2), French Ministry of Ecology, Haitian Ministry of Economy and Finance, Norwegian Ministry of Justice and Public Security, UK Competition Market Authority, US Bureau of Labor Statistics (one student each)
International Organizations / Non-profits
6%
OECD (3), Entrepreneurial Development Bank (FMO), Inter-American Development Bank, World Bank, (one student each)
Technology
5%
ABB Group, Everis, PI Works (one student each)
Other Industries
9%
Danone, Energy Profiles Limited, Everything Finance, Philip Morris International, Vestas (one student each)
97% success rate for students seeking entry to PhD or other post-graduate program
21 graduates who chose to continue their studies have entered the PhD program at Universitat Pompeu Fabra (organized jointly with the BSE). Other graduates in the Class of 2020 accepted places in PhD programs at institutions such as:
The Class of 2020 is working and studying in 32 countries
30% of the class is studying or working in Spain. 49% are located in another European country. 12% of the Class of 2020 is now located in North America, 7% in Africa, Asia, or Oceania, and 2% in South America.
PROFESSIONAL AND ACADEMIC PLACEMENT BY LOCATION
Countries where 5 or more alumni from the Class of 2020 are currently working or studying:
Spain (46 students)
Germany (17)
United Kingdom (16)
United States (10)
Italy (8)
France (7)
Turkey (7)
Switzerland (6)
Career paths by Master's program
Select a program to view the placement trends for the three most recent cohorts:
Master's Degree in Economics and Finance
Master's Degree in Specialized Economic Analysis
Master's Degree in Data Science
See also
Competencies by Master's Program