study
Class of 2019 achieves 97% career placement within six months of completing the Master's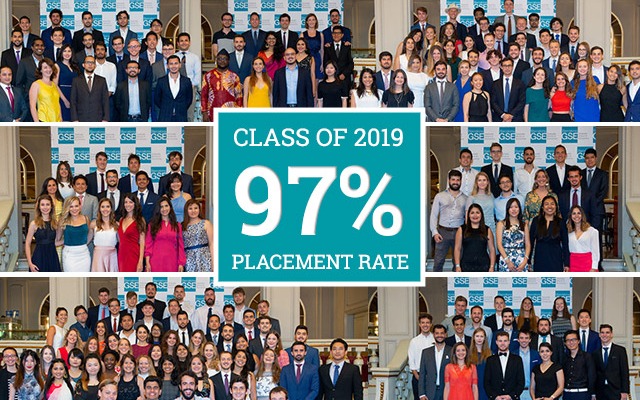 Placement rate and class trends are calculated from information reported by alumni to BSE Career Services.
---
Within six months of obtaining their Master's degrees from the Barcelona School of Economics, 97% (187 out of 193 students) in the BSE Class of 2019 obtained a professional position or entered a post-graduate program related to their Master's studies.
This year's success rate continues the trend for recent cohorts, which had rates of 93% (Class of 2017) and 94% (Class of 2018). Part of this consistent success is due to the reputation BSE alumni have earned with recruiters in both the private and public sectors, many of whom return to the BSE year after year to identify candidates.
"Over the last several years we have hired many graduates from BSE. We have been pleased with their performance, notably by their ability to apply economics to real word issues. Every year we have come back to BSE to try to hire their best students. We will return next year!" said Valentina Ruocco from RBB Economics.

RBB regularly attends the BSE Consulting Day event, which brings top firms to campus each October to meet with Master's students.
BSE Career Services provides targeted, personal guidance for the job search
Many students took advantage of tools and resources provided by BSE Career Services throughout the academic year to define their career goals and hone their job search. Services include one-to-one guidance sessions, recruiter talks on-campus, and mock-interviews, among many others.
"What was really the best was the personal relationship, the discussions not only about what I would actually be good at, workwise or profile-wise, but about which career would suit my personality and in which career I could be happy, in the short and in the long run," said Stephan Thies '19 (ITFD). "I never received such personalized career advice in my life. I really enjoyed that, and I am also really happy that BSE Career Services helped me start my position at the World Bank, which is kind of my dream job."

After completing his consulting work for the World Bank, Stephan will enter Columbia University to begin his PhD in Sustainable Development. A number of BSE alumni choose to get some work experience right after the Master's before entering a PhD program a year or two later.
97% (187 out of 193 students) seeking placement were successful within 6 months of graduation
Out of those placed, 80% chose to enter or return to the professional work force, while 20% entered a PhD or other post-graduate program of study immediately after the Master's program.
PROFESSIONAL VS. ACADEMIC PLACEMENT
96% success rate for students seeking a professional position
BSE Master's graduates are always in demand for their unique profile combining analytical skills, theoretical knowledge, and experience working on diverse teams with English as the common language.
"The main reason why we hire students from BSE is the solid economic knowledge and technical skills that they acquire during the master. Their comprehension and use of econometric models, as well as their rigor and economic intuition, are key to help and enhance research in our department," said Ricard Murillo '17 (ITFD), Economist at CaixaBank Research, which hired five research assistants from the Class of 2019.

"This year, our research assistants from the Class of 2019 have also pushed forward some challenging projects with excellence and thoroughness while contributing to the good atmosphere in our team with their fresh, open-minded attitude," he added.

Ricard also joined CaixaBank Research as a research assistant after graduating with the BSE Class of 2017, and later progressed to his current position of Economist.
PROFESSIONAL PLACEMENT BY INDUSTRY

Examples of employers hiring BSE graduates in the Class of 2019 (# of students hired)
Financial Services
24%
European Central Bank (6), CaixaBank Research (5), CaixaBank Business Intelligence (2), Banc Sabadell (2), Banco Central de Peru, Bank of Canada, BBVA, Bloomberg, BNP Paribas, JP Morgan, Santander, Swiss National Bank, UBS, United States Federal Reserve (one student each)
Consulting
20%
Compass Lexecon (3),

Frontier Economics (2), KPMG (2),

NERA Economic Consulting (2), Oxera (2),

RBB Economics (2),

Bluecap, Deloitte, E.CA Economics, Instiglio, Open Evidence, SIRIS Academic, The Brattle Group, Vivid Economics (one student each)
International Organizations / Non-profits
15%
OECD (8)

,

European Investment Bank (3)

,

Inter-American Development Bank (2), Organization of American States (2), World Bank (2), German Development and Investment Bank (DEG), International Labour Organization, ODI, World Food Programme, World Trade Organisation (WTO) (one student each)
Government & Authorities
14%
AIReF (3),

European Commission, CNMC, UK Competition Market Authority (one student each)
Research & Academic Institutions
13%
IESE Business School (2),

Laterite (2), University of Zurich (2)
Technology
7%
Glovo (2),

Barcelona Supercomputing Center, eDreams, Socialpoint (one student each)
Other Industries
7%
Munich Airport, Novartis, Sanofi,

Unilever (one student each)
100% success rate for students seeking entry to PhD or other post-graduate program
| | |
| --- | --- |
| | 16 graduates joined one of two PhD tracks organized with BSE |
| | PhD programs at other institutions around the world such as: |
The Class of 2019 is working and studying in 36 countries
Some Master's graduates remain in Barcelona, while others return to their home countries or relocate for jobs or post-graduate programs in another country.
PROFESSIONAL AND ACADEMIC PLACEMENT BY GEOGRAPHIC REGION
Countries where 5 or more alumni from the Class of 2019 are currently working or studying:
Spain (71 students)
United Kingdom (18)
United States (15)
Germany (13)
France (12)
Peru (7)
Switzerland (6)
Career paths by Master's program
Select a program to view the placement trends for the three most recent cohorts:
Master's Degree in Economics and Finance
Master's Degree in Specialized Economic Analysis
Master's Degree in Data Science
See also
Competencies by Master's program