research
Central Bank Research Association annual meeting co-organized with BSE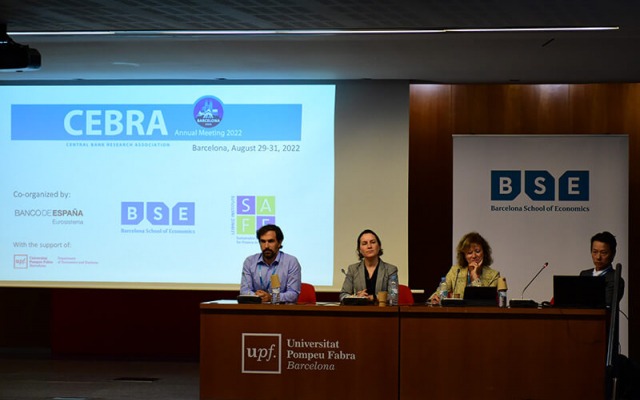 The Central Bank Research Association (CEBRA) held it's annual meeting from August 29-31, which was co-organized by Banco de España, the Barcelona School of Economics and the Leibniz Institute for Financial Research 'Sustainable Architecture for Finance in Europe' (SAFE) with the support of the Department of Economics and Finance of the Universitat Pompeu Fabra (UPF).
The event took place at the Ciutadella Campus of the UPF and was attended by more than 250 researchers which included executives from numerous central banks around the world. The topics discussed at the meeting focused on the current economic challenges of high inflation and increasing interest rates.
On the first day, a high-level panel discussed "High inflation and other challenges for monetary policy", which was chaired by Jordi Galí (CREi, UPF, BSE) and included Deputy Governor Martin Flodén (Sveriges Riksbank), Philip Lane (ECB) and Diogo Abry Guillen (Central Bank of Brazil). A keynote address was also given by Deputy Governor Margarita Delgado of Banco de España.
Central Banking and the Green Transition was also a topic that was showcased on the third day of the meeting and John Hassler (IIES-Institute for International Economic Studies) provided the keynote speech while Raphael Auer (President, CEBRA & Head, BIS Innovation Hub Eurosystem Center) led a presentation on Data Gaps and the Green Transition. There was also a panel that discussed this topic and was moderated by Romanos Priftis (ECB) and included talks from Deputy Governor Margarita Delgado (Banco de España), Harrison Hong, (Columbia University) and Fernanda Nechio (Federal Reserve Bank of San Francisco).
The Central Bank Research Association (CEBRA) is an international association that focuses on encouraging applied and theoretical research on topics relevant to central banks, financial regulators, international financial institutions, and fiscal authorities, as well as to connect the research staff of these institutions with academia. There are currently 60 researchers from numerous central banks, IFIs and academic institutions that CEBRA has connected. CEBRA is dedicated to promoting the discussion of research in an open, transparent environment and regularly organizes seminars, meetings, conferences and other activities for researchers to share their recent findings.
This was the first CEBRA annual meeting that was held in person after 2 years of the meeting being online. The virtual annual meeting in 2021 was hosted by MIT Golub Center for Finance and Policy and co-organized with the Leibniz Institute for Financial Research SAFE. The 2020 annual meeting also took place virtually and was held at the Center for Macroeconomics of the London School of Economics and Political Sciences and at the Bank of England.
The CEBRA 2022 annual meeting in Barcelona was sponsored by numerous organizations throughout the industry:
Source: Cebra.org
A full presentation schedule as well a program summary of the event can be viewed on the CEBRA website.
---
A selection of press coverage linked to this event
See also