alumni
Career Services team meets with recruiters and alumni in New York, DC, and San Francisco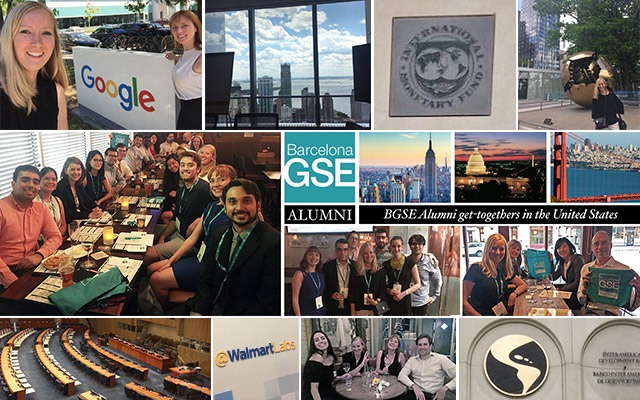 This spring, members of the BSE Career Services team traveled to the United States to meet with economists, business specialists, HR managers, and BSE alumni.
The team had a full schedule of meetings with active and potential recruiting organizations in three cities where BSE Alumni are currently living: New York, San Francisco, and Washington, DC. In addition to their meetings with target recruiters, the Career Services team hosted an informal gathering with BSE Alumni in each of the three cities.
New York
In New York the team reconnected with eight alumni. Seven of them live and work in the New York area, while Francesco Amodio (Economics '10), Assistant Professor at McGill University in Montreal, Canada, was in the city for a conference and happened to be in the same restaurant where the meeting was being held.
Contacts in NYC on this trip included Citibank, Deutsche Bank, Duff & Phelps, KPMG Analytics, Marsh, MSCI, RBC, and the United Nations (UN Women, UN Economic Statistics Branch, and UNDP).
Washington, DC
More than 20 alumni attended the DC alumni get-together, making it the largest of the three meetings on this trip. The DC-area alumni are working at places such as the Inter-American Development Bank, the IMF, and The World Bank.

In addition to IDB, IMF, and the World Bank, the BSE Careers team was in touch with the Center for Economic and Policy Research (CEPR), Child Trends, and Compass Lexecon.
San Francisco
During the third leg of their US tour, the Career Services team connected with Blackrock, BRAC/CEGA, Expa, Google, Roche, UC Berkeley, and Walmart Labs. They met up with two alumni who live in the San Francisco area: Liyun Chen (Economics '11), now at Facebook, and Scott Robertson (HEP '13), now with Verily Life Sciences (Google/Alphabet).
BSE Alumni Initiative around the world
The BSE Alumni get-togethers are one of the activities organized as part of the new BSE Alumni Initiative announced at the 2017 Alumni Meeting earlier this year. More activities and meetings in cities around the world are currently in the planning stages. Those alumni who wish to help organize one can contact BSE Alumni Relations Officer Frederic Vandyck to get started.
---
Recruit BSE students and alumni