research
Barcelona School of Economics hosts ACE Annual Conference 2021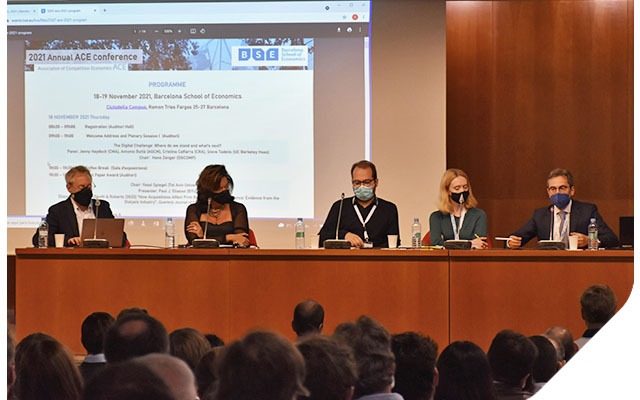 The Association of Competition Economics (ACE) held its 2021 conference in Barcelona with an online keynote by Nobel Laureate Jean Tirole.
This November, the Barcelona School of Economics hosted the 2021 annual conference of the Associate of Competition Economics (ACE). More than 270 competition economists attended the two-day conference in person at BSE, following all health and safety protocols established at the time of the event.
The conference program consisted of three plenary sessions, 12 parallel sessions, a best paper presentation, and an online keynote address by Jean Tirole (Toulouse School of Economics and Nobel Laureate 2014).
Plenary session topics
The Digital Challenge: Where do we stand and what's next?
The Vox debate on Google FitBit, privacy and data
Competition, the economic recovery and sustainability: the challenge ahead
Download the full ACE 2021 Conference Program
Keynote: Privacy in the digital age and its impact on social interactions and markets
Photo: Jean Tirole prepares to deliver his keynote via videoconference to the ACE 2021 participants.
In his keynote, Professor Tirole spoke to the conference participants about "Privacy in the digital age and its impact on social interactions and markets." The keynote chair was ACE President Ana Sofia Rodrigues, Chief Economist and Head of the Bureau of Economic Studies and Market Monitoring of the Portuguese Autoridade da Concorrência (AdC).
The local organizer of ACE 2021 was Barcelona School of Economics Research Professor Massimo Motta (ICREA-UPF and BSE).
International events hosted at the Barcelona School of Economics
Other major conferences and events held at BSE have included:
In addition to conference hosted for external organizations, the annual Barcelona School of Economics Summer Forum provides a meeting point for hundreds of economists to present and debate their latest research across dozens of topics in Economics and related fields.
Study Competition Economics at the Barcelona School of Economics