research
BSE Seed Grants 2021 provide €98K in research funding for Affiliated Professors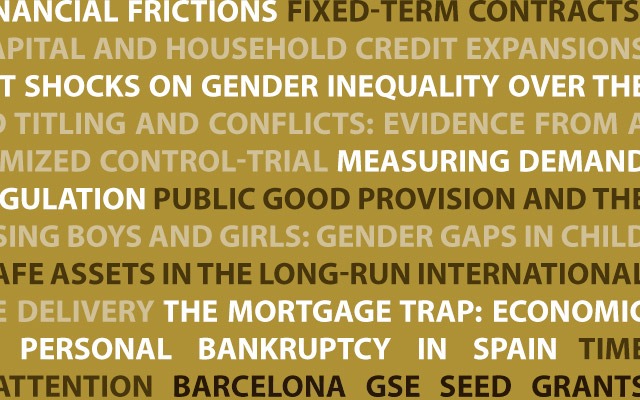 The Barcelona School of Economics has awarded nearly €100,000 in funding to 14 researchers in the 2021 edition of the BSE Seed Grants. The Seed Grants are supported by the Severo Ochoa Research Excellence Program.
The call for Seed Grants is open to all BSE Affiliated Professors. The program primarily aims to fill a gap in the availability of funding that researchers often face at the beginning of their careers and contributes to making more competitive offers in the junior job market.
The Seed Grants also provide funding to BSE researchers at more advanced stages of their careers who require special data or research assistance support.
By addressing both of these needs, the Seed Grants strengthen the capability of the BSE to both attract and retain Affiliated Professors conducting applied research.
Including this year's call, a total of 93 BSE Seed Grants have been awarded to 67 researchers. Of the 93 projects:
Some of this year's new Seed Grant projects will surely join these lists in the future!
BSE Seed Grants 2021

| Researcher | Unit | Project Title |
| --- | --- | --- |
| Marco Fabbri | UPF | Land Titling and Conflicts: Evidence from a Land Tenure Reform Implemented as a Randomized Control-Trial |
| Rosa Ferrer | UPF | Measuring Demand and Supply of Audiovisual Content and its Regulation |
| Alexander Frug | UPF | Time Management and Optimal Scheduling of Attention |
| Mohammad Ghaderi | UPF | Robust Discrete Choice Model |
| Andre Groeger | UAB | Raising Boys and Girls: Gender Gaps in Child Development |
| Priit Jeenas | UPF | Fiscal Policy with Firm Heterogeneity and Financial Frictions |
| Dmitry Kuvshinov | UPF | Safe Assets in the Long-run International Perspective |
| Ursula Mello | IAE-CSIC | Heterogenous Impacts of Local Labor Market Shocks on Gender Inequality Over the Life Cycle |
| Joan Monràs | UPF | Public Good Provision and the Spatial Distribution of Economic Activity |
| Minyoung Rho | UAB | The Mortgage Trap: Economic and Social Implications of the Lack of Personal Bankruptcy in Spain |
| Björn Richter | UPF | Foreign Capital and Household Credit Expansions |
| Alberto Santini | UPF | Sustainable Integrated Last-mile Delivery |
| Mikhail Spektor | UPF | Human Learning: Fast = Slow? |
| Hanna Wang | UAB | Fixed-term Contracts, Fertility and the Gender Wage Gap |