study
Alumni share insights from their careers in international organizations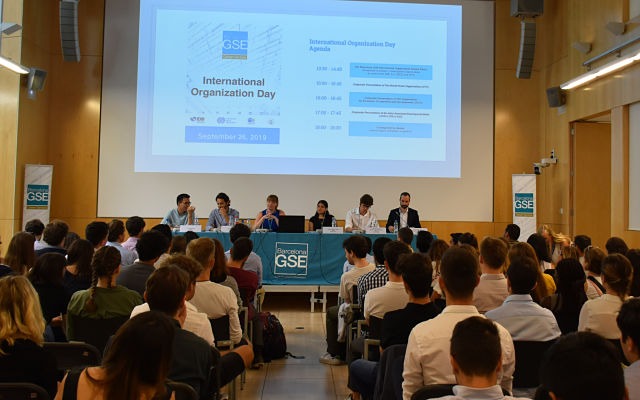 For the second year in a row, BSE Career Services organized an International Organizations Day for Master's students who are interested in exploring career options in this field. Alumni who are currently working at the IDB, the ILO, the OECD, and the WTO came to Ciutadella Campus to participate to share their experiences and insights. More than 80 students attended the event.
Understanding the job market for international organizations
One of the main objectives of this event was to help students learn more about the types of organizations and positions they can expect to find in this field. Alumni told the students that the sector's environment is very competitive. Getting a full-time contract right after graduation is difficult, so students may need to start with an internship. The alumni panelists were:
Antoine Bonnet '13 (ITFD), Junior Research Officer at the International Labour Organization (ILO)
Rodrigo Deiana '11 (ITFD), Junior Policy Analyst, Africa Unit of the OECD Development Center
Thang Nguyen '13 (Economics of Public Policy), Junior Policy Analyst, Africa Unit of the OECD Development Center
Alberto Osnago '09 (Economics), Trade Policy Analyst at the World Trade Organization (WTO)
Tessy Vásquez Baos '11 (Economics), Technical Coordinator for the Financial Stability and Development Network at the Inter-American Development Bank (IADB)
At the end of the event, students received advice from the alumni in terms of best practices for writing an excellent resume and cover letter for international organizations, networking tips, and preparing for interviews.
The right combination of skills
Despite the challenges of landing a job in an international organization, the number of students who attended the event shows that their interest in the field remains strong.
There are many positions in such institutions which require not only the analytical skills that BSE Master's students acquire during their studies, but also the soft skills that make them successful in collaborative, multicultural environments.
"Employers who are after (skills) like how to survive and become effective in a very difficult environment; how to work with a team of completely different people from a very different culture, possibly a different language to the one (they have) grown up with, if you are looking for those sort of people, the graduate school here provides very good candidates", Robin Sherbourne, Head of the ODI Fellowship Scheme, Overseas Development Institute (UK) during a recent recruiting visit to the Barcelona School of Economics.
Related links