alumni
Eye on Alumni Interview: Vanessa Behrens '13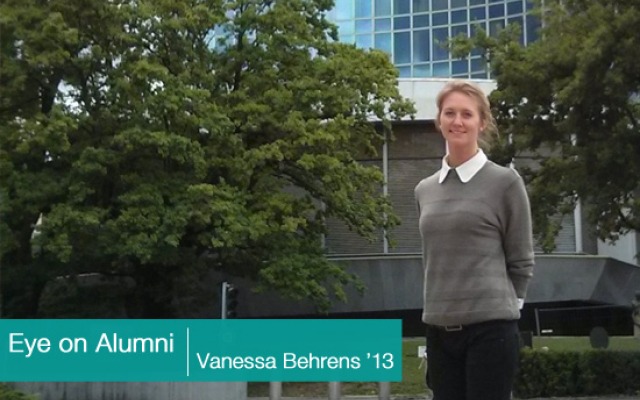 After graduating from the Economics of Public Policy master, Vanessa took an internship with the World Intellectual Property Organization in Geneva, Switzerland. The internship opened doors for her to move into a researcher position at ZEW in Mannheim, Germany.
What have you been working on at WIPO?
My main responsibility at WIPO is to analyse data on patents, trademarks, industrial designs and utility models, covering around 150 countries. The statistics are then published in WIPO's yearly statistical reports; The Hague-, Madrid-, PCT- and World Intellectual Property Indicators report. Additional to the analysis, my tasks involve data extraction and manipulation, performing calculations or finding the most informative and comprehensive way to visually represent the data.
I am also working on a paper concerning patent pendency. Several countries have seen an increase in the time it takes to grant a patent application, which may impact the incentive to innovate. This topic is very interesting and not widely covered in applied research, so this paper aims to present some initial findings.
How did the Economics of Public Policy master help prepare you for this work?
The master program I undertook at BSE has prepared me well for my internship at WIPO and for my future as a whole. The ability to interpret scientific research papers has helped me grasp the economics of innovation and firm behavior in the context of intellectual property. The state-of-the-art econometric techniques and focus on policy issues will prove to be particularly useful when I am undertaking applied research in the near future.
How did you find out about this position and what was the selection process like?
The BSE career service sent an email to inform students about the position. The selection process consisted of a telephone interview with my current boss. Within a week of the interview, I was offered the job.
Other than the master degree, what qualifications helped you get the job?
A masters degree was not required for this position, however, it is probably preferred. Work experience is always good to have, but more important is the relevance of your previous work. Nevertheless, a lack of directly related work experienced may be compensated by knowledge on intellectual property.
What's next for you after this internship?
I have truly enjoyed working in a great team at WIPO and feel like it has opened doors for me. I will soon be starting to work as a Researcher at The Center of European Economic Research (ZEW) in Mannheim, where I will be undertaking applied research on innovation policy and industrial economics.
More BSE alumni in Switzerland
There are around 25 BSE master program alumni currently living in Switzerland. Cities with the most alumni are Zurich, Geneva, and Basel.
BSE alumni working in Switzerland include analysts and economists working for employers such as:
BAK Basel Economics
Bank for International Settlements
Capco
Credit Suisse
Totsa Total Oil Trading SA
UBS
World Trade Organization
Alumni pursuing PhD study in Switzerland are at academic institutions such as:
Swiss Finance Institute
University of Lausanne
University of Zurich
---
Interview conducted in September 2014.
Which alumni should we interview next?

The next "Eye on Alumni" interview could feature you or one of your classmates. Tell us which graduate you think we should interview next: community@bse.eu