alumni
Eye on Alumni Interview: Aleka Pappa '14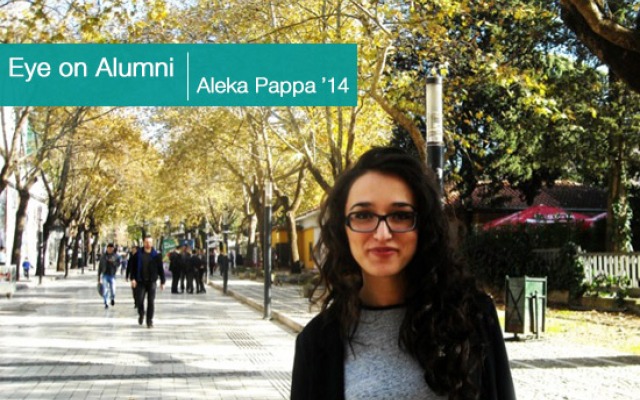 This Economics of Public Policy alum is conducting research at the Institute for Democracy and Mediation (IDM) in her home town of Tirana, Albania. She uses quantitative methods and tools from the master to evaluate processes such as decentralization in Albania and reconciliation activities in the Western Balkans.
Tell us about your position at IDM.
I am a junior research fellow under the Think Tank Young Professional Development Program for MA and PhD Graduates at the Institute for Democracy and Mediation (IDM), an independent NGO in Albania. The fellowship is awarded by Open Society Foundations (OSF) to recent graduates from high-quality universities in the OECD countries returning home to contribute in the regional think tanks.
What sorts of research projects are you working on?
In my present position, I am involved in multidisciplinary activities starting from providing assistance to senior colleagues in drafting project proposals and policy briefs to conducting desk and field research and offering general support to events and conferences promoted by IDM.
What is more, by the end of the fellowship period, I have to elaborate a research paper and a comprehensive policy paper on a specific relevant argument. Currently, I am supporting the development and execution of a project concerning the monitoring and assessment of the decentralization process in Albania. I am also part of a team carrying out qualitative analysis of reconciliation activities in the Western Balkans.
What material from the master program has been most useful for this work?
Needless to say, the master program in Economics of Public Policy has been a great asset to me with its distinctive combination of a solid foundation in economic theory with the applied aspect – all accompanied by the teaching of world-class professors. I especially value the firm grounding in research methods with Econometrics, Quantitative Methods for Policy Evaluation and Survey Methods, which have been particularly useful in my current projects.
Any nostalgia for Barcelona as you get settled in Tirana again?
Well, as the legend goes, Barcelona has me under a spell since I drank from the Font de Canaletes – I already went back for a weekend last month!
---
Interview conducted in November 2014.
Which alumni should we interview next?

The next "Eye on Alumni" interview could feature you or one of your classmates. Tell us which graduate you think we should interview next: community@bse.eu