research
9th BSE PhD Jamboree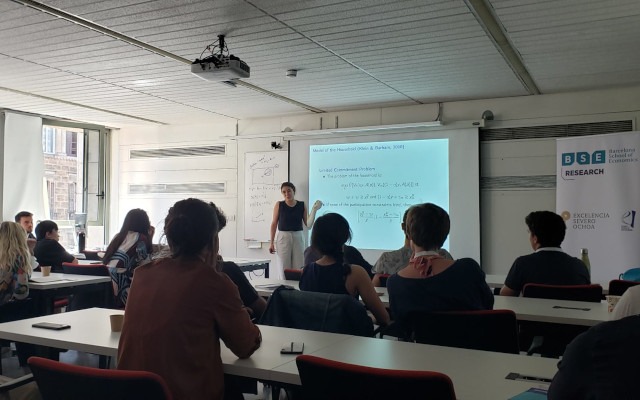 The Jamboree provides a forum to share work and connect with fellow PhD students in the Barcelona School of Economics community.
The 9th edition of the Barcelona School of Economics PhD Jamboree took place May 12-13, 2022. The event was launched for the first time in June 2014 and its organization is led by the students of the PhD Program in Economics, Finance and Management at Universitat Pompeu Fabra (UPF) and the International Doctorate in Economic Analysis at Universitat Autònoma de Barcelona (UAB), PhD programs jointly organized with BSE.
As in previous editions, the Jamboree featured keynote presentations by alumni from both PhD programs in the BSE community. They were Alejandra Ramos (Trinity College Dublin), and Donghai Zhang (University of Bonn), alumni of the UAB and UPF programs, respectively.
Close to 20 PhD candidates presented their work, paired with peers who acted as "discussants" who looked into the research presented, catalyzing the group discussion. In all, around 60 students participated in the Jamboree during the two days.
The students leading the Jamboree this year were:
The Jamboree is a unique initiative that offers PhD candidates across the BSE community the chance to present their work to peers from the broader BSE PhD community, joined by participants from several European research institutions.
The Jamboree is a BSE research initiative supported by the Severo Ochoa Research Excellence Program through Spain's State Research Agency.
Participants and organizers speak
The organizers shared their impressions and the reasons to take part in this event. Alejandro Rábano said that he "wanted to be part of this, to see how it is organized, how this kind of event works, and to meet students of both the UPF and UAB PhD community of BSE". To this, Shangdi Hou added, "as I was a speaker of last years' Jamboree, I felt it my responsibility to contribute, in return, to other students," while Manuel Lleonart said that "I felt that during COVID times I did not have the chance to get to know my classmates. I really was missing that kind of thing."
The PhD Jamboree is one of the occasions during which the BSE research community of both campuses gets together. Another of the organizers, Amil Camilo, considered that it is "very important to have a forum for PhD students to discuss their work openly, while at the same time bringing together the UPF and UAB communities." Regarding the positive impact of the event, Camilo and Lleonart agreed that "forums like this are great because you get exposed to different ideas, see what others are achieving, and discover new perspectives from your peers, which is very healthy and useful."
Lunch break, with UAB and UPF members of the BSE community together, on the second day of the Jamboree.
Their words were echoed by keynote speaker Donghai Zhang: "It is a great event for current PhD students, and I hope and think it was useful. I tried to convey lessons that I learned only after the PhD, as an assistant professor, and which would have saved me a lot of time. I am very happy with all I learned during the PhD, which left its imprint on how to write, how to think logically, and so forth." Zhang continued, "It was great to be here, and I'm extremely proud for being back, now as a keynote speaker. I am very grateful to BSE for supporting this event, which students appreciate a lot, and which alumni are happy to join. It's great as a team building or even community-building event."
View the full program for BSE PhD Jamboree 2022
---
More about BSE PhD programs and the PhD Jamboree
PhD programs in the BSE research community
Barcelona School of Economics PhD Jamboree 2021
---
The Jamboree is one of the BSE research initiatives supported by the Severo Ochoa Research Excellence Program (CEX2019-000915-S) through Spain's State Research Agency (Agencia Estatal de Investigación - AEI).