study
95% placed within six months - BSE Class of 2022 Career Report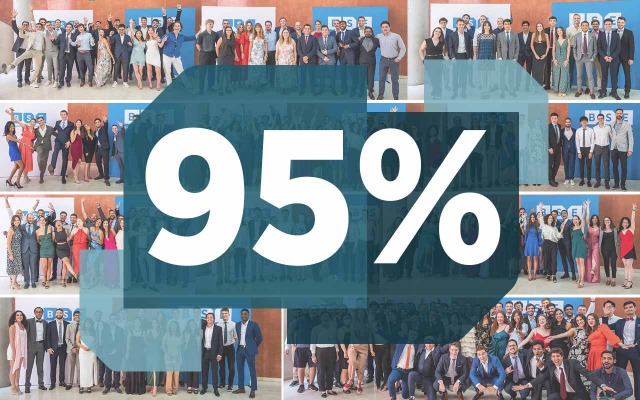 First jobs and postgraduate programs reported by the Barcelona School of Economics Master's Programs Class of 2022
The results are in, and once again they are impressive: the BSE Class of 2022 has achieved a 95% career placement success rate!
According to data reported by the class to BSE Career Services, there were 207 students who were seeking a job related to their Master's studies or entry to a PhD program, and 196 of them (95%) were successful within the first six months after graduating from one of the three Master's degrees offered at BSE: the Master's Degree in Economics and Finance, the Master's Degree in Specialized Economic Analysis, or the Master's Degree in Data Science.
An important resource that many students used to land their first placements was the BSE Career Services team. Economics Program graduate Stuart Maclachlan '22 pointed to the recruitment talks and job interview training as particularly useful for landing his job at the UK Government Economic Service.
"Career Services offered us a wide program of activities and training throughout the academic year. In my case, it was very useful to attend the Job Interview training to prepare and succeed in the recruitment processes of companies I applied for," Maclachlan said. "I had the opportunity to participate in many Recruitment Talk sessions with companies from a range of industries, where I could network with recruiters and understand what they look for in candidates."
"My advice to future BSE Master's students would be to take full advantage of the expertise of the consultants in Career Services. They are incredibly knowledgeable and supportive."

Stuart Maclachlan '22 (Economics Program), Assistant Economist at the UK Government Economic Service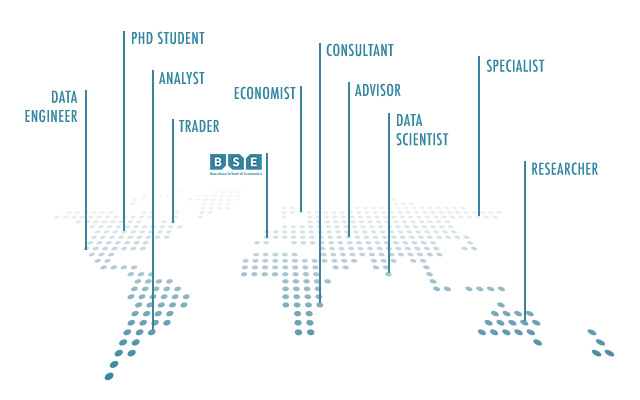 4 out of 5 students in the Class of 2022 chose a professional career path
Of those students who entered the work force, 26% chose positions in consulting firms while 23% joined research or academic institutions (23%). Around 15% went for jobs in the finance sector, and another 15% chose to work in government agencies or authorities. Technology firms (11%), international Organizations and non-profits (5%), and other industries (5%) also hired BSE graduates from the Class of 2022.
PROFESSIONAL PLACEMENT BY INDUSTRY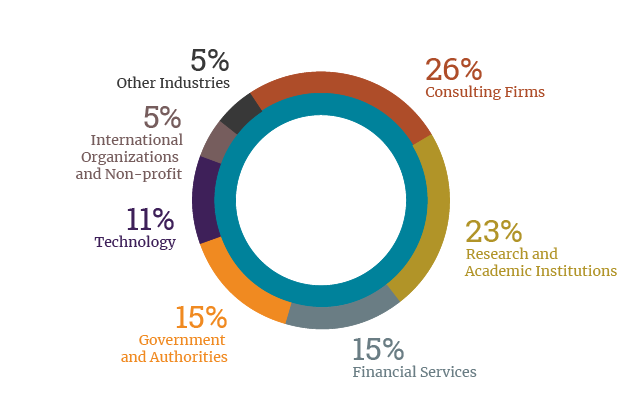 WHICH EMPLOYERS HIRED THE BSE CLASS OF 2022?
Industry
Employers (listed alphabetically)
Consulting Firms


26%

41 students hired by 25 consulting firms
60decibels, Accenture, ADE, Alma Economics, Apricum, Capital Economics, Charles River Associates, Compass Lexecon, Copenhagen Economics, Deloitte, E.CA Economics, EcoVadis, FocusEconomics, Gauss International Consulting, KPMG, MHP - A Porsche Company, Mind The Value, Nera Economic Consulting, NTT Data, Oliver Wyman, Open Evidence, Oxera, RBB Economics, The Brattle Group, The Cluster Competitiveness Inc.
Research & Academic Institutions


23%

37 students hired by 24 academic and research institutions
Abdul Latif Jameel Poverty Action Lab (J-PAL), Asia Centre, BSE, CRES-UPF, EBS Universität, ENSAE, ETH-Zurich, Euro-Mediterranean Economists Association, Fundació Bofill, Fundació d'Economia Analítica (FEA), Harvard University, IAE-CSIC, IESE Business School, IMIM, Innovation Growth Lab, INSEAD, Institute of Political Economy and Governance, New York University, Science and Technology Policy Institute, The Chinese University of Hong Kong, Shenzhen, UPF, University of Chicago, University of Ghana, University of Zurich
Financial Services
15%
31 students hired by 19 banks and other financial institutions
Abrdn Plc., Arowana Impact Capital, Axco, Aztec Group, Banc Sabadell, Banco Santander, Bank for International Settlements, Big Society Capital, CaixaBank Research, Citi Bank, Coinbase, Deutsche Bank AG, EAG MUNICH ERGO, Ebury, First Rate, JPMorgan Chase , Karân Capital, MJ Hudson, Nordea
Government & Authorities
15%
23 students hired by 15 government agencies and authorities
Acció, Banco de España, Bank of England, Central Bank of Malta , Central Bank of the Dominican Republic, Department for International Trade (DIT), EFTA Secretariat, European Central Bank, Federal Reserve Bank of Boston, Federal System of Australia - Education department, Fiscalía Nacional Económica (Antitrust), Government Economic Service, Government of India, Legislative Fiscal Division - State of Montana, Ministry of Finance of Chile - Budget Department
Technology Firms
11%
18 students hired by 17 tech firms Appian, Aval Digital Labs, Beder, Bip, Buynomics, Digital Charging Solutions, Glovo, GSMA, HP, Minsait, Patra Corporation, Ricoh, RTLab, Socialpoint, Tactile Entertainment, VEAT, Webfleet Solutions
International Organizations / Non-profits
5%
8 students hired by 5 international organizations and non-profit organizations
International Labour Organization (ILO), International Monetary Fund (IMF), Organisation for Economic Co-operation and Development (OECD), United Nations Development Programme (UNDP), World Bank
Other Industries
5%
8 students hired by 8 firms and organizations
Chain Avocats, Chungnam Office of Education, Cours Florent, Danone, Indaru, Mytheresa, PepsiCo, Superside
95% success rate for entry into PhD/post-grad programs
In addition to the students in the BSE PhD Track Program, which is the first year of the UPF PhD Program, students in other BSE Master's accepted places in PhD programs at institutions such as:
Loughborough University
Maastricht University
Universitat Autònoma de Barcelona (UAB and BSE)
Universitat Pompeu Fabra (UPF and BSE)
University College London (UCL)
University of California, Davis (UC Davis)
University of Cyprus
Some members of the Class of 2022 decided to continue at BSE to work on obtaining a second Master's degree.
The BSE Class of 2022 is working or studying in 29 countries around the world.
After graduating, around 43% of the class began studying or working in Spain. Another 40% are located in another European country. 8% of the Class of 2022 is now located in North America, 3% in South America, 1% in Africa, and 1% in Asia.
PROFESSIONAL AND ACADEMIC PLACEMENT BY LOCATION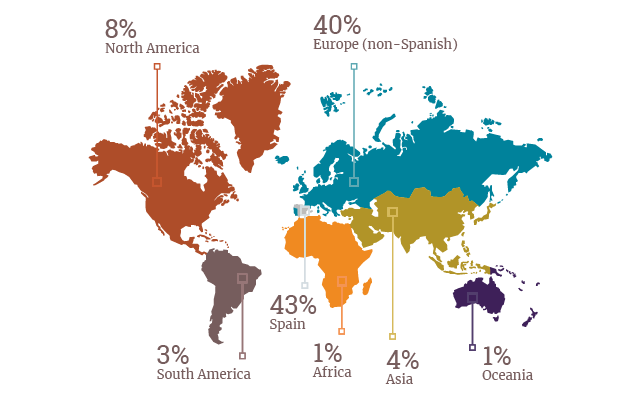 Countries where 3 or more graduates began working or studying:
Spain (86)
Germany (20)
United Kingdom (20)
United States (14)
Belgium (10)
France (9)
Switzerland (6)
Chile (3)
Denmark (3)
India (3)
Cities where 3 or more graduates began working or studying:
Barcelona, Spain (78)
London, United Kingdom (19)
Frankfurt, Germany (11)
Brussels, Belgium (9)
Madrid, Spain (8)
Paris, France (7)
Washington, DC, United States (5)
Boston, MA, United States (4)
Copenhagen, Denmark (4)
Munich, Germany (4)
Berlin, Germany (3)
This Career Placement Report is based on information reported to BSE Career Services by members of the Class of 2022.
To report a correction or add a missing placement, please contact career.services@bse.eu.
---
First placement trends by Master's program
First placement trends for the three most recent BSE Master's cohorts are available for the following programs:
Master's Degree in Economics and Finance
Master's Degree in Specialized Economic Analysis
Master's Degree in Data Science
See also
BSE Class of 2021 achieves 94% placement success rate
Competencies by Master's Program