community
Tools and support for BSE community during coronavirus lockdown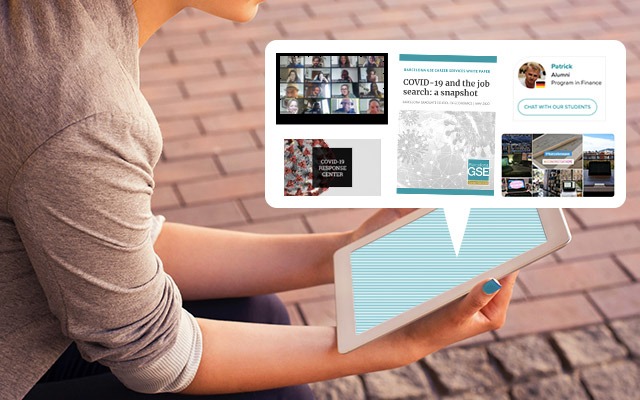 When study, research, and social activities at the Barcelona School of Economics were suspended in mid-March 2020 because of the coronavirus lockdown, the school drew on 13 years of experience in international higher education to foster the spirit of collaboration and community that define the BSE experience.
Read about BSE tools and support for:
Distance learning
Daily face-to-face contact between students and professors is a hallmark of the BSE Master's programs. The relationships they built in Barcelona during the first half of the academic year have facilitated the transition to online learning.
Most professors are delivering their lectures live via video conferencing, where they encourage student participation as they would on campus. Lectures are also recorded for students who are unable to attend the live sessions and so that all students can rewatch them at any time. Other tools have been put in place to promote group work, which will be essential this term as students work together to produce their final master projects.
As they have always done when classes are conducted on campus, BSE program coordinators are available remotely to make sure the Master's programs run as smoothly as possible.
In addition to academic support, extracurricular activities such as online yoga and functional training classes as well as regular social hangouts help students destress and maintain the friendships the made during their months on campus in Barcelona.
Career guidance and job search
In order to provide the most current information to soon-to-be-graduates facing an especially challenging job search, the BSE Career Services team conducted a survey of BSE recruiting partners to find out how COVID-19 is impacting their selection processes. The team obtained survey responses from 60 companies and organizations that regularly recruit BSE students and alumni.
The survey results were presented to Master's students at the end of April via webinar and have been made available in a new BSE Career Services White Paper, COVID-19 and the job search: a snapshot. The report is packed with data and feedback from recruiters, guidance for how to approach the job search during the COVID-19 crisis, and resources for staying updated on the evolving job market in the weeks and months ahead.
In addition to special COVID-19 resources, the team continues to provide full services including one-to-one guidance sessions, mock-interviews, and training over video conferencing software. They will also extend active career support for all students for as long as they need it to find their first job.
Download "COVID-19 and the job search: a snapshot"
Research initiatives
Much of the research that BSE Affiliated Professors do can continue "from home." (See some of their output in our collection "Economics of coronavirus: COVID-19 impact and policy interventions" and on our faculty research blog.) However, some aspects of the research process are usually conducted face-to-face with colleagues and co-authors. For example, seminars are an important platform for economic researchers to share and debate their work.
During the lockdown, BSE researchers organized webinars to keep the debate going online. Several of the BSE Summer Forum Workshops were conducted in June as BSE Research Webinars. A total of 572 participants attended and 62 papers were presented during the online seminar programs. Other new initiatives such as the Virtual Development Economics Seminar Series open the conversation to hundreds of economists worldwide. (Nearly 700 researchers attended the first VDEV Seminar on May 12.)
Really excited to be launching the Virtual Development Economics seminar!
Jointly organized by me (@barcelonagse @econ_empresaUPF), @bjorkmanmartina (@handels_sse @misum_sse), Giacomo De Giorgi (@gsem_unige), and Karen Macours (@PSEinfo).

— Gianmarco León-Ciliotta (@Gianmarco_LeonC) May 8, 2020
Calendar of research events Professors on Twitter
Keeping alumni connected
The BSE's community of 2,400 alumni has always been close-knit despite the distance. Alumni chapters in 12 world cities hold regular get-togethers with local alumni. One of the largest chapters is the one here in Barcelona, where dozens of alumni are working or continuing their studies. Because of the coronavirus, alumni are currently not able to return to campus for career services events, professional courses, or alumni reunions. This international network is staying close through video hangouts, social media challenges, and the BSE Alumni Platform.
#EconomistsAtHome: How BSE students, alumni and professors continue their studies and research while they #StayHome (thread) pic.twitter.com/qUmhX7Vki9

— Barcelona School of Economics (@barcelonagse) April 21, 2020
Applicants and offer holders for 2020-21
With around 85% of Master's students coming from outside Spain every year, the BSE Admissions team is very much accustomed to connecting with applicants online. The team is keeping in touch with offer holders and applicants by video chat, email, and phone. Applications are still open and being processed as usual.
Webinars with Admissions staff, Career Services, and Master's program directors are available in the Admissions Webinar Center. Incoming students have been granted access to the BSE Alumni Platform, which they ordinarily do not get until the start of the academic year in September. They can also chat with alumni from each program using online chat software.
81 BSE Alumni volunteered to chat online with incoming students, and 591 questions have been answered to date.
The Admissions team has created a FAQ on coronavirus procedures to provide clear information about how the BSE is responding to the COVID-19 situation as it relates to the Master's programs. The page is updated whenever new information becomes available.
"Thank you very much for sending me the admissions COVID-19 protocol. It gives me a lot of confidence in the resilience of your institution, beyond my personal circumstances."
An applicant to the 2020-21 edition of the Master's
Admissions FAQ on coronavirus protocol Apply to Master's programs
The BSE coronavirus response is revised regularly
Get the latest updates on the BSE's response to the coronavirus pandemic across all areas of the school: