research
Summer Forum 2021 features "After COVID" policy panel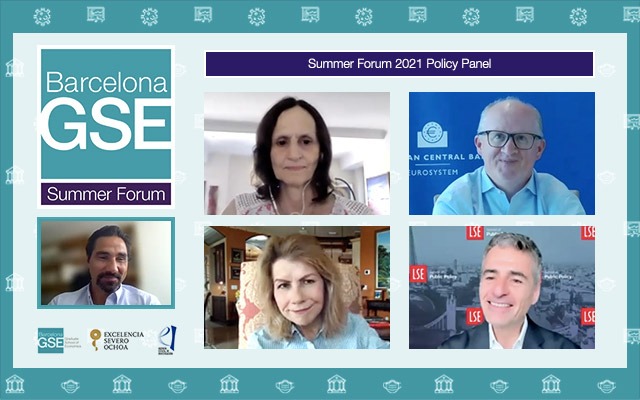 The Barcelona School of Economics organized the eighth BSE Summer Forum from June 7-18, 2021. The Summer Forum is a meeting point for international researchers across dozens of fields in Economics, Finance, Data Science, and related areas.
This year's edition of the BSE Summer Forum was held online due to ongoing pandemic safety restrictions. It included 23 workshops run by BSE Affiliated Professors and their colleagues from universities, central banks, and international organizations around the world.
BSE Summer Forum 2021 by the numbers
1,159 participants connecting from 67 countries
272 papers presented (1,499 submitted to the open call)
23 workshops (46 days of session time)
133 institutions in 21 countries represented
10 central banks and international organizations represented
1 policy panel open to the public
The organizers of this year's Summer Forum were Professors Inés Macho-Stadler (UAB and BSE) and Jaume Ventura (CREI, UPF and BSE).
While the online format did not include the traditional coffee breaks or dinners by the beach, it did allow presenters to get feedback and debate their work with other workshop participants:
Amazing first day! Thanks a lot to the organizers @abanalestanol, Ines, and David for the great opportunity to present my research to such an audience! Thanks everyone for the insightful discussion! @barcelonagse https://t.co/MWPsfMDglO

— Alessandra Allocca (@aleallocca89) June 7, 2021
Policy panel opens Summer Forum to a wider audience
On June 17, the entire BSE community as well as the general public were invited to watch the Summer Forum online panel discussion, "After COVID: Macroeconomic Challenges and Opportunities" and hear the latest insights from four economic policy experts:
The panel was moderated by BSE Research Director Alberto Martin (CREI, UPF and BSE).
Watch this policy panel on YouTube
Summer Forum 2022 will return to Barcelona
The organizers plan to hold the next edition of the BSE Summer Forum in person in June 2022.
Sign up to receive Summer Forum email alerts
---
The Summer Forum is one of the BSE research initiatives supported by the Severo Ochoa Research Excellence Program (CEX2019-000915-S) through Spain's State Research Agency (Agencia Estatal de Investigación - AEI).
The BSE has been accredited as a Severo Ochoa Center of Excellence in all three editions of the program (2012-15, 2016-19, and 2020-23).