study
Sponsors support funding for Master's study at Barcelona School of Economics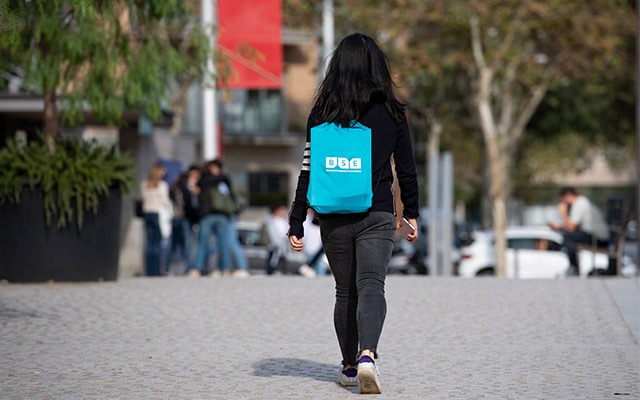 Sponsors of the Barcelona School of Economics increase the financial resources we can offer to the most promising candidates admitted to our Master's programs.
Every year, the Barcelona School of Economics attracts talented and motivated students from around the world to study an official Master's Degree in Economics and Finance, Specialized Economic Analysis, or Data Science. Their outstanding profiles mean that they have their pick of offers from leading universities and graduate schools. Thanks to the generous support that comes from our public and private sponsors, BSE can offer full or partial funding to the most promising candidates admitted to our Master's programs.
Each sponsor determines the type of funding they wish to provide. Some sponsors choose to award named scholarships to specific students. Other sponsors contribute funds that BSE combines with our own resources to offer full or partial tuition waivers. BSE and our sponsors award an average of 800,000€ in merit-based funding to Master's students every year. Around 36% of matriculated BSE Master's students receive full or partial funding for their studies.
Barcelona School of Economics sponsors providing funding in 2021-22
This year, Accenture, Fundación Ramon Areces, and Unicredit Foundation have awarded fully-funded scholarships to BSE Master's students.
BSE Class of 2022 Full Scholarship Recipients
Lorenzo Leskovar '22 (Data Science Methodology Program) - Accenture
Maddalena Grignani '22 (PhD Track) - Unicredit Foundation
Madalena Luz '22 (PhD Track) - Fundación Ramón Areces
The Data Science Methodology Program student Lorenzo Leskovar was awarded the Accenture scholarship. After graduating from his bachelor's in Economics, he got the opportunity to work as a digital business consultant at Globant and he realized that Data Science is key in multiple aspects like decision making, optimization of operations, or customer service, and all of this motivated him to get into the field.
"BSE was an obvious choice for me since it is an economics school and the study plan provides all the theoretical background needed to understand artificial intelligence models and how to implement them. I hope to take as much as I can from the masters for my work in Accenture and for myself so that I can keep on learning in the future as the industry grows."

Lorenzo Leskovar, Data Science Methodology student
Madalena Luz is the recipient of Fundación Ramon Areces scholarship. She is studying the PhD Track Program at the Barcelona School of Economics and highlights the proximity among students and professors which "has been impeccable and a key aspect that allowed me to learn so much in such a short amount of time."
"Studying at the Barcelona School of Economics has been an amazing experience. The PhD track program has a small and close group of students learning from specialists in Macroeconomics, Microeconomics, and Econometrics. I am looking forward to continuing my studies at BSE."

Madalena Luz '22, PhD Track student
Unicredit Foundation awarded a full scholarship to Maddalena Grignani, who is also studying in the PhD Track Program this year. Maddalena already had experience as a Research Assistant at Harvard Kennedy School and at the University of Chicago Booth School of Business Executive Education, which allowed her to work in close contact with highly qualified professors and to grow as a researcher. However, Maddalena Grignani admits she was still lacking some tools, which is why she decided to apply for the PhD Track Program at the Barcelona School of Economics to do the PhD in Economics (organized jointly by Universitat Pompeu Fabra and BSE).
"In the long term, I would like to pursue a career in research, but for the time being, my objective is to develop the knowledge to be able to conduct my own studies."

Maddalena Grignani '22, PhD Track student
Related Links