research
Research community gathers for 20th Barcelona School of Economics Trobada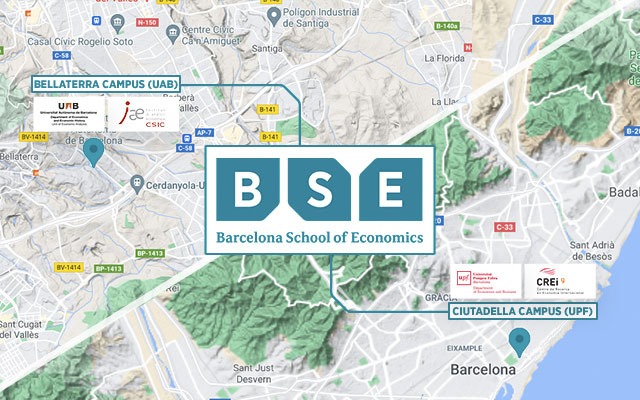 The annual Trobada brings together new and returning professors, post-docs, PhD students, and visiting researchers from all BSE academic units.
The 20th Barcelona School of Economics "Trobada" took place on October 7, 2022 at the Col·legi d'Economistes de Catalunya. The Trobada (Catalan for "gathering") is the first event of the academic year for researchers across the BSE's four academic units:
The Trobada is one of the Barcelona School of Economics research activities that receives support from the Severo Ochoa Research Excellence Program.
Community lunch and research presentations
The day's program began with a lunch that gave everyone time to meet and greet their colleagues from other units. Next, there was a brief presentation about BSE initiatives by our director, Teresa Garcia-Milà, and our deputy directors, Ada Ferrer-i-Carbonell and Alberto Martin. The program continued with research presentations from three members of the BSE research community:
Lorenzo Cappello (UPF and BSE), "On Some Recent Advances in Bayesian Change Point Detection"
Elisa Giannone (CREI and BSE), "Unequal Global Convergence" (with S. Chatterjee and K. Kuno)
Angel López (IAE-CSIC and BSE), "Common Ownership and Technology Adoption"
View the Trobada 2022 photo album on Flickr
Right after the traditional Trobada program concluded, everyone had the opportunity to stay and hear John Moore (University of Edinburgh) present the 43rd Barcelona School of Economics Lecture, "Key Workers and Funding Horizons."
Watch videos from Professor Moore's BSE Lecture
A warm welcome to our new members
Four new BSE Affiliated Professors have joined our community this fall. Each of them was introduced at the Trobada and welcomed along with our new post-docs, visitors, and PhD students. The new Affiliated Professors are:
Fabian Gaessler (UPF and BSE)
PhD, Max Planck Institute for Innovation and Competition
Research Interests: Industrial Organization, Microeconomics
Mishel Ghassibe (CREI, UPF and BSE)
PhD, University of Oxford
Research Interests: Macroeconomics, Monetary and Fiscal Policy
Alexander Krauss (IAE-CSIC and BSE)
PhD, University of Leipzig
Research Interests: Development Economics
Luca Salvadori (UAB and BSE)
PhD, Universitat de Barcelona
Research Interests: Public Economics, Microeconomics
Barcelona School of Economics Affiliated Professors are tenured or tenure-track faculty members of our academic units. With this year's new members, there are now 151 Affiliated Professors from 31 countries (52% are from outside Spain). All BSE Affiliated Professors and post-docs, as well as PhD students and visiting researchers, are listed in our Research Directory.
Visit the BSE Research Directory
---
The Trobada is supported by the Severo Ochoa Research Excellence Program (CEX2019-000915-S) through Spain's State Research Agency (Agencia Estatal de Investigación - AEI).
Barcelona School of Economics has been accredited as a Severo Ochoa Center of Excellence in all three editions of the program (2012-15, 2016-19, and 2020-23).