study
Public Policy careers event highlights job opportunities for economists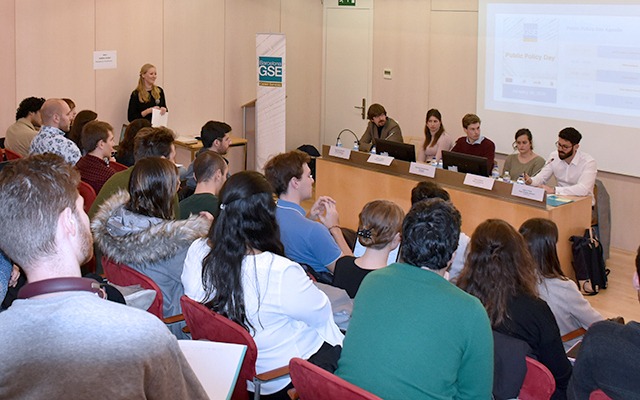 This winter, BSE Career Services organized its Public Policy Day for Master's students in all programs who want to explore public policy job opportunities for economists and data scientists. While the BSE offers a Master's program specifically on Economics of Public Policy, around 35 students from most of the seven Master's programs attended this year's event.
The agenda began with a panel discussion with representatives from four very different organizations working on public policy:
The panelists explained the type of work they do, how their organizations are structured, and what they are looking for in terms of applicants. Some of the presenters are BSE Alumni, and one found her job after Career Services brought the employer to campus last year.
Alumni who spoke to students at this year's Public Policy Day were:
Also on the panel was Bernardo Rondelli, Founding Partner of SIRIS Academic. Two alumni who participated in the event, Josep Bosch '19 (Economics of Public Policy) and Chiara Toietta '19 (Economics) found their jobs at SIRIS after Career Services brought the company to campus last year.
Questions from the students during the panel ranged from sector trends to how to get the most out of the Master's to prepare for work in public policy. For example:
What specific topics and/or tools did you learn through your courses at BSE that were directly relevant or implemented in your current job responsibilities?
Which specific technical skills do you suggest us to acquire during this year?
Do you see any space for data science skills in the formulation and evaluation of public policy? Is there a demand for these skills? Are there dedicated data science teams?
Panelists in turn stressed what employers are looking for in a job candidate, such as:
Scientific way of thinking and critical mindset
Adaptability and teamwork
Ability to explain arguments and methodology to non-economists
For data scientists (currently in high demand), storytelling using Python or R is just as important as doing good analytics
Following the panel, students could meet one-on-one with the alumni working at Bruegel and PwC to get a more informal inside look at what it's like to work there.
Other Career Services sector events this year
The Career Services team organizes events like the Public Policy Day in several sectors throughout the academic year. They help students align their expectations with the offering of some institutions working in the sector and to see how they will be able to develop a career in the short and long term with such organizations.
About BSE Career Services
BSE Career Services provides students and alumni with a portfolio of resources to support their career development. The Careers team works with faculty, companies, institutions, and the BSE's alumni network to create placement opportunities that match the quality and caliber of our graduates. Additionally, our Career Advisors help each student prepare for a successful job search.