research
Philippe Aghion delivers 39th BSE Lecture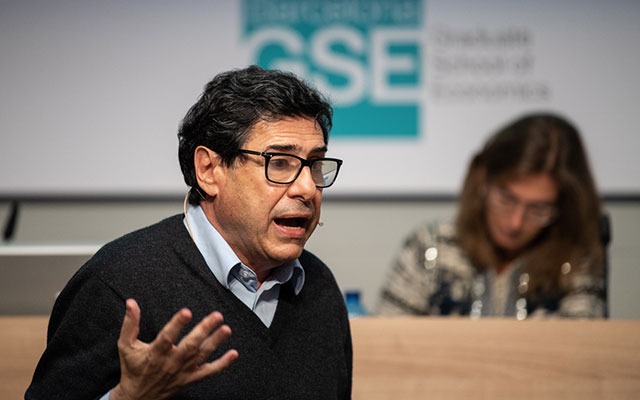 Philippe Aghion (College de France and LSE) discussed "Rethinking Growth: The Schumpeterian Perspective" at UPF Balmes on October 5, 2018.
The lecture was introduced by Sofía Rodríguez, Head of Banc Sabadell's Macroeconomics and Financial Stability Division, and Antonio Penta, ICREA Research Professor at Universitat Pompeu Fabra and BSE Affiliated Professor.
Video: Lecture recap
In his lecture, Prof. Aghion outlined work he's done on the role of creative destruction in growth, as well as calculating missing growth for economies such as the United States and France.
Watch the full BSE Lecture by Philippe Aghion
About BSE Lectures
Organized with support from Banc Sabadell, the BSE Lecture Series has brought dozens of the world's top Economics scholars to Barcelona every year since 2003 to share their research on a range of topics on specialized theory and practice. Speakers come from prestigious universities, central banks, and international organizations.
Recent BSE Lectures

Hélène Rey (London Business School): "The International Monetary System and the Role of the United States"

Hyun Song Shin (Bank for International Settlements): "Global Liquidity and Procyclicality"