alumni
New online platform launched for BSE Master's alumni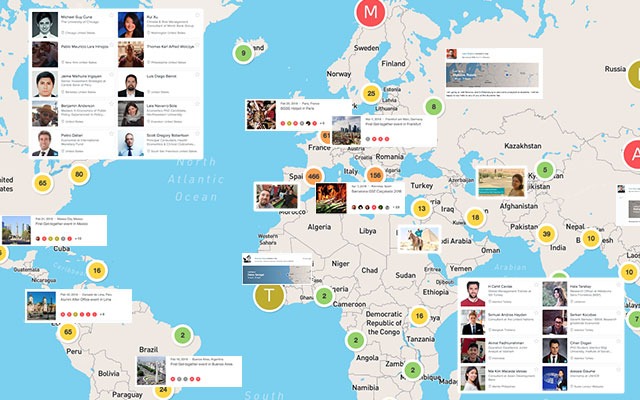 This year, the Barcelona School of Economics launched a new online platform for alumni of the Master's programs. Graduates of the first ten cohorts of the Master's have been given access to a beta version of the platform, with plans to roll it out to current students later this spring and to the incoming students in the 2018-19 edition later this year.
The platform offers several ways for alumni to reconnect with classmates, find other alumni working in their industry, and participate in alumni activities wherever they are currently living. Some of the features include:
A directory to find and contact alumni by location, industry, class year or program
Tools for sharing travel plans or checking in to a specific location
Registration for alumni events all over the world
New features will be added based on feedback from the alumni community and how they use the platform. One new feature already planned for release will be groups based on professional industry or academic interest.
"The launch of this platform is an investment that the BSE is making because we know the potential of bringing together a talented network of individuals," said Joan Rubió, manager of the BSE Alumni Office. "There is such a spirit of community and teamwork among our Master's students during the program, and we want to help our alumni keep that going beyond graduation and beyond Barcelona."
In the first month following the launch, 320 alumni have activated their platform accounts. This represents over 16,5% of the entire BSE Alumni community with all class years and programs represented. Many of the alumni who activated their accounts took advantage of the easy import feature from LinkedIn or Facebook which allows them to easily import their profile picture and career details.
Only alumni of the BSE Master's programs will be able to access all features of the platform, though some sections can be viewed without logging in and alumni can choose whether or not to make their details visible to other users or the public.
---
View public pages of the platform or, if you are a member of the BSE Alumni community, log in for full access
---
Alumni chapters and regional ambassadors
The platform has already facilitated meet-ups in places around the world such as Paris, Frankfurt, London, and Mexico City. In addition to the platform, two important elements that are helping to drive alumni activity have been the creation of alumni chapters and the role of regional ambassador, a voluntary position taken by one or more of the alumni in the chapter to coordinate with the alumni office in Barcelona.
Chapters and ambassadors as of March 2018
BARCELONA CHAPTER

Daniele Alimonti
Economics of Public Policy '16
Barcelona Regional Ambassador

Ilaria Vigo
Economics of Public Policy '16
Barcelona Regional Ambassador

Thomas Woiczyk
Economics '14
Barcelona Regional Ambassador

BERLIN CHAPTER

BRUSSELS CHAPTER

Andreas Michalovcik
Economics '10
Berlin Regional Ambassador

Mario Schäfer
Economics of Science and Innovation '10
Berlin Regional Ambassador

Nuno Almeida
Competition and Market Regulation '12
Brussels Regional Ambassador

LIMA CHAPTER

LONDON CHAPTER

Gabriela Lopez
Competition and Market Regulation '10
Lima Regional Ambassador

Swasti Gupta
International Trade, Finance, and Development '17
London Regional Ambassador

Angelo Martelli
Economics '11
London Regional Ambassador

MADRID CHAPTER

NEW YORK CHAPTER

PARIS CHAPTER

Isaac Ré Delgado
International Trade, Finance, and Development '15
Madrid Regional Ambassador

Luis Mateo
Finance '09
New York Regional Ambassador

Thang Nguyen
Economics of Public Policy '13
Paris Regional Ambassador