community
New Faculty Join BSE Founding Academic Institutions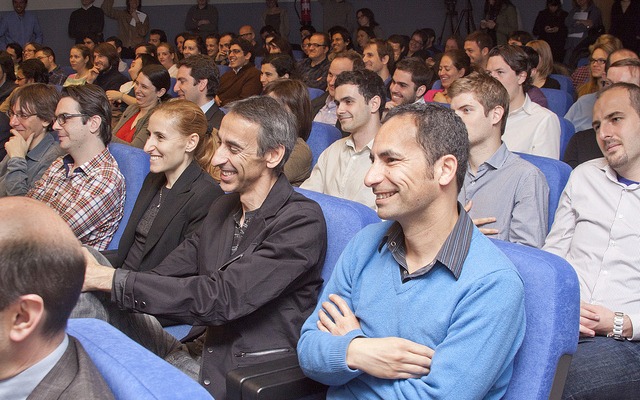 The BSE is pleased to welcome 10 new tenure-track assistant professors to the faculties of their founding universities: the Unit of Economic Analysis of the UAB and the Department of Economics and Business of the UPF. Additionally, the Institute for Economic Analysis (IAE-CSIC) and the Center for Research in International Economics (CREI) -- two of the School's other founding academic institutions -- are in the process of recruiting new researchers for their centers.
The founding academic institutions of the BSE, which are the primary source of most of the School's faculty, are consistently ranked as among the leading economics departments in Europe in terms of research. These preeminent institutions have helped establish the city of Barcelona as one of the strongest European centers of teaching and research in economics.
The institutions employ internationally renowned researchers at the forefront of their fields, including Fellows of the Econometric Society, ICREA Research Professors, and authors of books and papers in standard use in economics. A number of the BSE faculty serve on the editorial boards of leading journals in economics, and many have experience outside academia as top professionals and scholars in their fields.
A brief profile of each new assistant professor is presented below.
UAB Unit of Economic Analysis:
Stefano Gnocchi earned his B.A. and Msc in Economics from Bocconi University in Milan, and holds an additional Msc in Economics (with honors) from the UPF. He has been a PhD candidate in Economics at the UPF since 2003. In the past he has been a visitor at MIT, and has held a Graduate Research Position at the European Central Bank. His fields of interest are Macroeconomics, Monetary economics, and Monetary and Fiscal Policy.


Guillaume Haeringer is a recipient of the Ramon y Cajal grant, Haeringer has been a Researcher at the Universitat Autònoma de Barcelona since 2002. Previously, he was a lecturer at the University of Warwick and a Marie Curie fellow at CODE and the Department of Economics and History of the UAB. He received his PhD in Economics from Université Pasteur in 2000.
Haeringer's research interests include International Commerce, Advanced Microeconomics, and Game Theory. His research has been published in top economics journals including the Journal of Economic Theory.


Miguel Angel Ballester has been a researcher of the Juan de la Cierva program at the Universitat Autònoma de Barcelona since 2004. He earned his PhD. From the Universidad Pública de Navarra (UPNA) in 2002, where he won the award for best doctoral dissertation.
Ballester's main research interests lie in Social Choice, Political Economy, and Individual Decision Theory. He has been published in the Journal of Economic Theory, as well as several other journals and books.


Daniela Iorio is currently a Post-Doctoral Fellow at the University of Southern California. Iorio earned her PhD in Economics in 2006 from U. Penn, where she won the E. Mansfield Teaching Prize in Economics in 2005. She holds both an Msc and a B.A. (summa cum laude) in Economics from Bocconi University in Italy. Iorio's research interests include Political economy, Empirical Microeconomics, Applied Econometrics, and Health Economics.
UPF Department of Economics and Business:
Gert Cornelissen is currently finishing his PhD at the Catholic University of Leuven, Belgium. Cornelissen's primary areas of research are Marketing and Consumer Behavior. He has a paper accepted for publication in the Journal of Economy and Management.


Albrecht Glitz has been a PhD student at the Department of Economics at University College London (UCL) since 2002. He completed his undergraduate studies at the Westfälische Wilhelms-Universität and earned an Msc in Economics from UCL in 2001. He was a visiting researcher at the University of California at Berkeley from 2004-2005.

Glitz's research fields are Labor Economics, Applied Microeconomics, Applied Econometrics and Micro econometrics. His current research focuses on the impact of immigration on the German labor market.


Joan de Martí holds a degree in Mathematics from the Universitat de Barcelona, and is finishing his PhD at the Universitat Autònoma de Barcelona, one of the BSE's founding academic institutions. His primary fields are Applied Microeconomics, Microeconomic Theory, Game Theory, Networks in Economics and Theory of Organizations. He has a paper forthcoming in the American Economic Review.


Omiros Papaspiliopoulos received his PhD in Mathematics in 2003 from Lancaster University, England. Papaspiliopoulos has been a lecturer in Statistics at the University of Warwick, England. His research interests lie in the Intersection of Probability Theory, Statistical Inference and Statistical Computation. Much of his research is directed towards applications in Financial Econometrics. Papaspiliopoulos has already published six papers in academic journals, two of them in the Journal of the Royal Statistical Society.


Augusto Rupérez-Micola holds an Msc in Energy Economics from the Norwegian School of Management (BI) and a PhD in Decision Sciences (2006) from the London Business School. He is presently a Research Fellow at the Institute for Management Development (IMD) in Lausanne. His research interests are Agent-Based Modeling, Business Strategy, Decision Science, Applied Econometrics and Energy Markets.

Rupérez-Micola was recently awarded the Hans Jürgen Ewers Prize in Applied Infrastructure Economics research for his PhD thesis. He has a paper published in Energy Industry Business Strategies, and others accepted in Energy Economics and the Journal of Economic Behaviour and Organization.


Carmit Segal earned an Msc in Physics from Tel Aviv University and a PhD in Economics from Stanford University (supervised by Ed Lazear). She is currently a Postdoctoral Fellow of Business Administration at Harvard Business School. Her primary fields of research are Labor Economics, Experimental/Behavioral Economics and Personnel Economics. Her research has focused on the role of non-cognitive skills for economic outcomes. Her most recent paper, "Classroom Behavior," is forthcoming in the Journal of Human Resources.
Institute for Economic Analysis (IAE-CSIC):
Olivier Dagnelie received his PhD from the University of Namur in Belgium in 2002, after completing an Msc in Economics at the same university. Since 2000, he has been a research and teaching assistant at the Department of Economics of the University of Namur. His research interests include Information Systems Management, Econometrics, and Statistics.


Jesus Fernandez-Huertas is currently a PhD candidate at Columbia University. Fernandez-Huertas received his Msc and Mphil in Econoimcs from Columbia and his BA from the Universitat Autónoma de Barcelona. He has been an economics fellow at both Columbia and Georgetown University, and was honored with the Extraordinary Prize in Economics from the UAB. This research fields are International Economics, Development/Growth, and Labor Economics.