community
Board appoints Matthew Jackson as Chair of BSE Scientific Council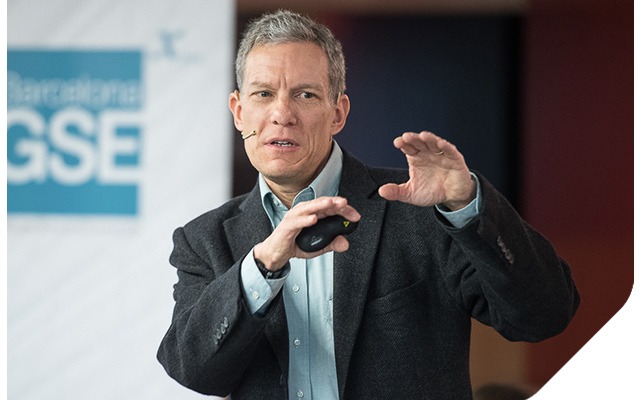 Photo: Professor Jackson during one of his visits to Barcelona as a Scientific Council member
Long-time Scientific Council member Matthew O. Jackson (Stanford) will lead this advisory group of 33 distinguished academics
The Board of Trustees of the Barcelona School of Economics has appointed Matthew O. Jackson (Stanford University) to the position of Chair of the BSE Scientific Council. Professor Jackson will become the second renowned academic figure to lead the Council after Hugo Sonnenschein, who chaired the group since 2008 and passed away earlier this year.
The BSE Scientific Council is a group of 33 distinguished international academics — including 11 Nobel Laureates in Economics — who provide strategic guidance that contributes to the quality and performance of the education programs and research activities at the Barcelona School of Economics.
Members of the Council visit Barcelona periodically to analyze BSE initiatives and institutional development. Their visits often include events open to the entire Barcelona School of Economics community.
Matthew O. Jackson (PhD, Stanford University) is the William D. Eberle Professor of Economics at Stanford University and an external faculty member of the Santa Fe Institute. His research interests include game theory, microeconomic theory, and the study of social and economic networks, on which he has published many articles and the books The Human Network and Social and Economic Networks. He is a Member of the National Academy of Sciences, a Fellow of the American Academy of Arts and Sciences, a Fellow of the Econometric Society, a Game Theory Society Fellow, and an Economic Theory Fellow, among other honors. He has served on the editorial boards of Econometrica, Games and Economic Behavior, PNAS, the Review of Economic Design, and as the President of the Game Theory Society.
Professor Jackson has been a member of the BSE Scientific Council since its foundation. He has also served as chair of the selection committee for the Calvó-Armengol International Prize in Economics and participated in the BSE Summer Forum both as a presenter and a workshop organizer. He is known to many members of the BSE research community as a co-author and a friend.