community
Masters of Excellence Scholarships awarded to 5 BSE students by Fundació Catalunya-La Pedrera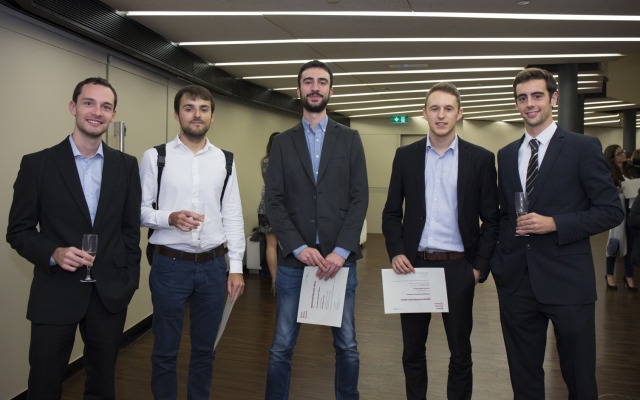 Merit-based scholarships are awarded to students entering masters programs that have an international reputation, top faculty and are focused on research.
Five BSE students in the Class of 2016 have received a Masters of Excellence Scholarship from Fundació Catalunya-La Pedrera. Their achievements were recognized at a ceremony held in the foundation´s headquarters in Casa Milà (La Pedrera), in Barcelona, along with other top graduate students who were also receiving the scholarship.
There to congratulate the scholarship winners at the event were Lluís Jofre, the Catalan Government's Director General for Universities; Germán Ramón-Cortés, the President of the foundation; Marta Lacambra, Director of the foundation and Eduard Vallory, President of the UNESCO in Catalonia.
Scholarship recipients are chosen entirely on the basis of their outstanding academic merit. Master programs are selected by the Foundation for inclusion in the scholarship program if they meet demanding criteria for international reputation, the quality of their faculty and focus on research. Only programs taught entirely in English are eligible for consideration.
2015-2016 BSE Fundació Catalunya-La Pedrera Scholarship Recipients:
Hector Blanco Max Elias van Esso Joaquim Vidiella Roger Cuscó Andreu Reixach
Master in Economics Master in Data Science Master in Economics Master in Data Science Master in Economics
Hector Blanco explains why he chose BSE:
"I enrolled in the Master in Economics at BSE because I wanted a competitive program that prepared me to further pursue a PhD in the United States. I thought that BSE's excellent faculty and the challenging workload of the advanced courses would provide me with the high-quality training I was looking for."
Max van Esso Castellet chose BSE because of its reputation:
¨I decided to do the Data Science Master's Program at BSE because of the school's excellent reputation as well as its cutting edge teaching methods. I expect this Master's to give me the quantitative tools and programming skills needed to excel as a data scientist. Furthermore I believe that the rigorous training we are being exposed to will help me face adequately both personal and professional challenges in the future.¨
Joaquim Vidiella feels that BSE will help his chances of being accepted into a demanding PhD program:
"I joined the BSE master in Economics in order to improve my analytical skills and make the most of its international environment. I believe these two reasons, altogether with its reputation as a renowned graduate program, will increase my chances of being accepted in the most demanding PhD programs."
Roger Cuscó explains why Data Science at BSE is important to him:
"Data analysis is to me the most honest way to acquire knowledge and take decisions in a world we don't quite understand. I wanted to specialize in Data Science enrolling in a program from a top institution, and I have to thank both BSE and Fundació Catalunya-La Pedrera for giving me that chance."
Andreu Reixach explains how BSE will support his career:
"I have chosen the economics program at BSE because it offers a deep and rigorous training in all branches of economics. This, in addition to the prestigious faculty and the high level standards, make the perfect combination in order to continue with an ambitious academic career."
All photos of the event can be viewed here.
The Fundació Catalunya-La Pedrera have also published a review of the event in Spanish which can be viewed here