faculty
EEA-ESEM Conference Kicks off at Bocconi University; GSE to Host 2009 Edition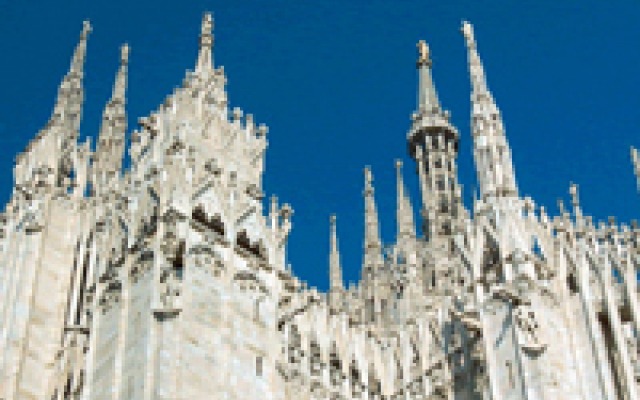 The 2008 meeting of the European Economic Association and the Econometric Society (EEA-ESEM) is taking place from August 27-31 Università Bocconi in Milan, Italy.
The European Economic Association (EEA) and the Econometric Society (ES) are international scientific organizations dedicated to the promotion and dissemination of contemporary economic research, including theoretical, empirical, and policy-relevant contributions.
The annual meeting of these two prestigious organizations features the work and findings of the leading scholars in economics and related fields, and provides an excellent opportunity for the economics community to stay at the forefront of research. The meeting, one of the largest of its kind both in Europe and internationally, typically draws thousands of attendees.
The BSE will be the host of the 2009 EEA-ESEM. Plans are well underway to undertake the conference, which will be held between the two campuses of the BSE- the Ciutadella campus, site of the UPF and a 5-minute walk from the beach, and the Bellaterra campus, site of the UAB and a short train ride from the city center.
The EEA/ESEM 2009 meeting will provide the opportunity for leading scholars to share their latest research as well as network with colleagues. Exciting social events and a wide range of optional programs will also be scheduled during the 5-day conference, allowing attendees to explore the cultural, culinary, and historical offerings of the city.
Together with the Program Chairs of the European Economic Association and the Econometric Society, the BSE Local Arrangements Committee will be in charge of planning all aspects of the conference. The committee is led by BSE Affiliated Professors Albert Carreras (Chair; UPF), Carmen Beviá (co-Chair; UAB), and Jordi Brandts (co-Chair; IAE), with BSE Director General Eduard Vallory as Secretary.
As in previous years, the EEA-ESEM featured the research of many GSE Affiliated Professors. In total, 28 papers included in the conference were authored or coauthored by members of the supporting academic institutions. All four of the school's supporting academic institutions were represented-- Universitat Pompeu Fabra (UPF), Universitat Autònoma de Barcelona (UAB), the Institute of Economic Analysis (IAE-CSIC) and the Center for Research in International Economics (CREI).
In addition, a variety of sessions were chaired by GSE Affiliated professors, including the session "Experiments", chaired by José Apesteguia (GSE and UPF), "Political Economy: Conflict and Rent-Seeking", chaired by Jordi Brandts (GSE and IAE-CSIC), "Decisions", chaired by Karl Schlag (GSE and UPF), and "Inflation", chaired by Laura Mayoral, (GSE and IAE-CSIC). Ramon Marimon (GSE, CREI, UPF, and European University Institute) gave an invited talk for the EEA titled "On the Evaluation of Economic Research in Europe".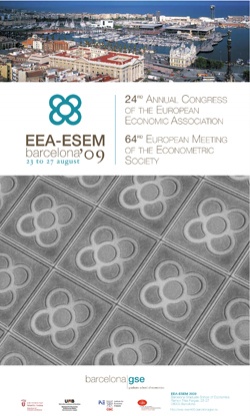 The poster for the upcoming edition of EEA-ESEM, which will be hosted by the BSE

GSE Presentations
Attendees of the conference include many GSE professors who came to share their work. A list of Affiliated Professors, with the paper presented, is below.
PERFORMANCE PRESSURE IN THE WORKPLACE: EVIDENCE FROM A RANDOMIZED EXPERIMENT
Jose Apesteguia, BSE and Universitat Pompeu Fabra
Co-Author: Ignacio Palacios-Huerta, LSE
PRIVATIZATION, ENTRY REGULATION AND THE DECLINE OF LABOR'S SHARE OF GDP: A CROSS-COUNTRY ANALYSIS OF THE NETWORK INDUSTRIES
Ghazala Azmat, BSE and Universitat Pompeu Fabra
Co-Authors: Alan Manning, LSE and John Van Reenen, LSE
PEACE AGREEMENTS WITHOUT COMMITMENT
Carmen Beviá, BSE and Universitat Autonoma de Barcelona
Co-Author: Luis Corchan, Universidad Carlos III de Madrid
INTER-GROUP CONFLICT AND INTRA-GROUP PUNISHMENT IN AN EXPERIMENTAL CONTEST GAME
Jordi Brandts, BSE and Institut d'Anàlisi Econòmica (CSIC)
Co-Authors: Klaus Abbink, Benedikt Herrmann, University of Nottingham and
Henrik Orzen, University of Nottingham
FISCAL POLICY, COMPOSITION OF INTERGENERATIONAL TRANSFERS, AND INCOME DISTRIBUTION
Jordi Caballé, Uiversitat Autònoma de Barcelona
Co-Authors: Jaime Alonso-Carrera, Universidade de Vigo and Xavier Raurich
WILLIAMSON MEETS HART: HAGGLING COSTS AND INCOMPLETE CONTRACTS
Pablo Casas-Arce, BSE and Universitat Pompeu Fabra
Co-Author: Thomas Kittsteiner, London School of Economics
THE ALL-PAY AUCTION WITH HANDICAPS
Pablo Casas-Arce, BSE and Universitat Pompeu Fabra
Co-Author: Asis Martinez-Jerez, Harvard Business School
THE SORTING EFFECT OF PRICE COMPETITION
Jan Eeckhout, University of Pennsylvania
DOES DIRECT DEMOCRACY REDUCE THE SIZE OF GOVERNMENT? NEW EVIDENCE FROM HISTORICAL DATA, 1890-2000
Patricia Funk, BSE and Universitat Pompeu Fabra
Co-Author: Christina Gathmann, Stanford University
VOLUNTARY CENSORSHIP IN COMMERCIAL MEDIA
Fabrizio Germano, BSE and Universitat Pompeu Fabra
Co-Author: Martin Meier, Institut d'Anàlisi Econòmica (CSIC)
AN AGENDA-SETTING MODEL OF ELECTORAL COMPETITION
Humberto Llavador, BSE and Universitat Pompeu Fabra
Co-Author: Josep M. Colomer, Universitat Pompeu Fabra and CSIC
COMPETITION, HUMAN CAPITAL AND INCOME INEQUALITY WITH LIMITED COMMITMENT
Ramon Marimon, BSE, European University Insitute & UPF-CREi
Co-Author: Vincenzo Quadrini, University of Southern California
THE LAW OF CONSERVATION OF PERSISTENCE
Laura Mayoral, BSE and Institut d'Anàlisi Econòmica (CSIC)
MINIMAX REGRET AND STRATEGIC UNCERTAINTY
Karl Schlag, BSE and Universitat Pompeu Fabra
Co-Author: Ludovic Renou, Leicester
DO AGGLOMERATION ECONOMIES REDUCE THE SENSITIVITY OF FIRM LOCATION TO TAX DIFFERENTIALS?
Kurt Schmidheiny, BSE and Universitat Pompeu Fabra
Co-Authors: Marius Brülhart, HEC - Université de Lausanne and Mario Jametti,
York University - Department of Economics
The European Economic Association (EEA)