study
BSE Consulting Day brings top European recruiters to meet Master's students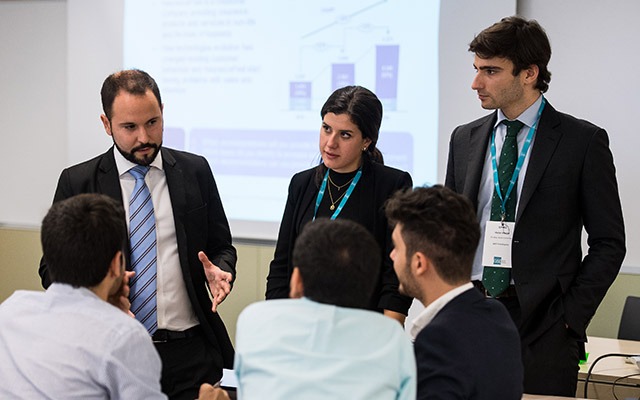 Over 130 Master's students from the Barcelona School of Economics and more than 30 recruiters from top consulting companies around Europe participated in Consulting Day 2017, organized by BSE Career Services on October 23 at Ciutadella Campus (UPF).
The Consulting Day gave BSE Master's students the opportunity to explore many aspects of the consulting world in a productive, one-day format. The agenda included:
An opening panel discussion with BSE Alumni who are working in firms specialized in economics, finance, data analytics, or strategy, moderated by Prof. Teresa Garcia-Milà (UPF and Director of the BSE).
Presentations by 14 companies from Barcelona, London, and Madrid
Small group case studies
Discussion of hot industry topics
A closing panel with competition experts and Alumni to discuss market trends and needs, moderated by Prof. Massimo Motta (ICREA-UPF and BSE, former Chief Competition Economist at the European Commission's Directorate General for Competition)
Companies that participated in BSE Consulting Day 2017
Master's students could speak directly with recruiters and alumni to get an understanding of the various career paths that different consulting companies offer. This will help them with their job search and when deciding between offers later on.
For recruiters, the event provided access to a pool of candidates from 54 different countries (86% of students coming from outside Spain). Recruiters had the chance to present their companies as well as specific full-time jobs, graduate programs and internship opportunities for professionals with a Master's degree in Economics, Finance, or Data Science.
"We consider the BSE to be one of the point sources of candidates for our company," said Enric Farguell, Senior Manager of Data Science at EY Barcelona.
The Consulting Day agenda included a full schedule of presentations, panels, case studies, and other workshops with more than 30 international recruiters from top firms in some of the most desired locations for BSE Master's graduates.
Several of the recruiters and speakers who came to participate in the Consulting Day are themselves BSE Alumni. Students had the chance to hear directly from the alumni about their experiences working in the consulting industry, and to see how their Master's studies are valued across the sector.
"Without the BSE Master's degree, I wouldn't be able to do the job I am doing right now," said Irina Berezkina (Finance '12), who is now a Corporate Finance Consultant with Oxera in London. "It basically helped to kickstart my career."
Alumni speakers and recruiters at Consulting Day 2017
---
More from BSE Career Services