study
Congratulations to the BSE Class of 2021!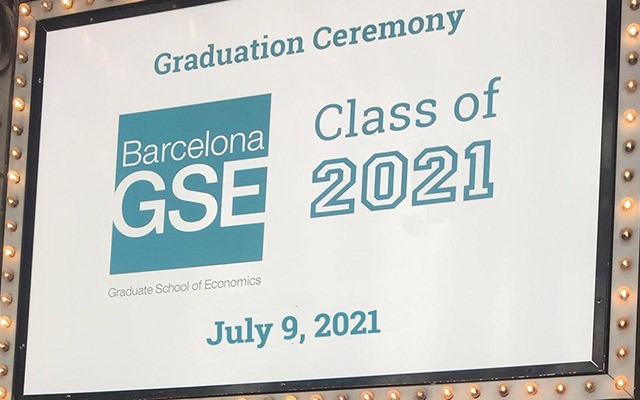 The 14th cohort of BSE Master's students graduated in a ceremony that featured a keynote by Bank of Spain Governor Pablo Hernández de Cos.
The graduation ceremony for the Class of 2021 of the Barcelona School of Economics Master's Degrees in Economics and Finance, Specialized Economic Analysis, and Data Science was celebrated on July 9, 2021.
Students, their family and friends, as well as BSE faculty, alumni, and staff tuned in from 17 countries world-wide to watch the broadcast of the pre-recorded virtual ceremony.
Graduation ceremony program
WELCOME REMARKS
KEYNOTE SPEAKER
AWARDING OF CERTIFICATES
STUDENT & ALUMNI SPEECHES
CLOSING REMARKS
Forging a new, stronger global economic architecture
Governor of Banco de España Pablo Hernández de Cos focused his remarks to the graduating class on the European project and how it fits into today's global landscape.
He emphasized the need for a coordinated, multilateral approach to challenges such as the COVID-19 pandemic and climate change. He noted that economists in Europe will need to continue working to reinforce the monetary union and develop integrated responses to crises, among other pending tasks that will mold Europe into a stronger, more resilient whole.
"I am convinced that among the students graduating today at the BSE, there is a good number of molders who will contribute crucially to this endeavor in the following decades," he said. "Thanks in advance for this contribution."
"The best thing about being economists is that we have so many options"
The student speaker this year was Elisa Greene '21 (Competition and Market Regulation). She is the first recipient of the BSE Alumni & Friends Merit Award, a merit-based tuition waiver for study in the BSE Master's programs funded and awarded by the BSE community.
In her speech to her fellow graduates, Ms. Greene shared her reflections on diversity in Economics, both in terms of career flexibility and with respect to systemic challenges still to be addressed.
"I think one of the best things about being an economist is that we have so many options, because basically we study anything that humans do. That gives us the opportunity to contribute in different areas and also to work with people from different backgrounds, and I think that kind of diversity is amazing," Greene said.
She then urged the Class of 2021 to be role models to others, to call out injustices, and to lead the way toward a more welcoming and open environment for economists of every gender, sexual orientation, and race.
A network and a community for life
The Class of 2021 now joins the network of over 2,500 BSE Alumni. This international community will be a support system and source of connection for the new alumni throughout their careers and their lifetimes.
The BSE looks forward to welcoming the Class of 2021 and all alumni back to campus and to events organized by chapters in 12 cities around the world very soon!